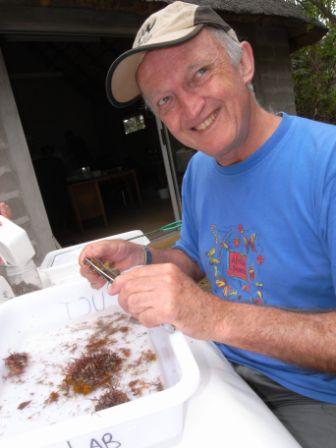 The annual Duerden Lecture, hosted by the Department of Zoology and Entomology, took place at Eden Grove recently. Professor Charles Griffiths from the University of Cape Town offered insight into South African's exceptional aquatic life in his talk, "Marine biodiversity in South Africa - the known and the unknown". Prof Griffiths also discussed the making of the new Two Oceans guide to marine life, of which he is an author.
South Africa's marine environment is unique in that the country lies at the junction of three oceans: the Atlantic, Indian and Southern Ocean. This results in what he describes as, "an amazingly diverse coastline, and exceptionally variable marine climate." Offering the audience a bit of extra trivia, Prof Griffiths noted that the entire coastline of South Africa stretches just 3100km, which allows just 7cm of coastline per person for its entire population. The coastline is divided into five bio-geographical provinces; and its exclusive economic zone, stretching out from the coastline, is just over one million square kilometers - almost equal to the land area of South Africa.
Currently, the known number of marine species in South African waters numbers 12 915. This is much less than the known number of terrestrial species, due largely to the vast amount of insects found on land. Marine life, in comparison, is far more diverse in terms of phyla, or groups of living organisms. Additionally, the process of discovering marine life is ever constant, with approximately 30 new species discovered per year. This includes local species new to science, first recordings of known invasive species in local waters and the splitting of known species into sub-taxonomic groups. As an example of the last category, recent research has shown that crown crabs, known to live along the length of the South African coastline actually consist of five separate species. South Africa also has 94 recorded marine bird species - far more than other African countries. According to Prof Griffiths, this can be attributed to the diversity of our marine environment.
The plethora of marine life is far from evenly distributed around South Africa's coastline. A great increase in fish species can be observed from the west to the east coast. He showed that, while some invertebrate groups follow this directional pattern, this is not true of all groups - a reminder not to formulate general conclusions from only one phylum. Amphipods and Isopods, for example, peak in diversity on the west coast. Overall species richness in invertebrates peaks along the southern coast, but range-restricted species (where the range is less 300km) are concentrated at ecotones, or the boundary areas between marine regions. For the deeper benthic (sea bottom) habitats, no accurate data exists due to the difficulty and expense in gathering samples, particularly from depths greater than 1000m.
The next question he posed to his audience concerned reliability. How reliable are biodiversity results to date? When it comes to mammals, birds and fish, our species counts are generally equal those in Europe. However, this same comparative table shows that, for the poorly known groups, South Africa would have to document 50% more species to be roughly equivalent to Europe's count. According to Prof Griffiths, this indicates that South Africa is in dire need of more taxonimists. The silver lining of this under-exploration is, however, the enormous potential for new discoveries. A veteran diver himself, Prof Griffiths had some amusing anecdotes about such new discoveries, along with some photographs taken of the unknown creatures discovered by recreational divers.
The new edition of the Two Oceans guide has been 15 years in the making, and contains a great number of new photographs, many of which have been taken by Prof Griffiths himself. A number of photographic techniques were used, including what he refers to as 'fakes' but might be better described as 'set-ups' -- photos taken of sea life out of its natural habitat. Many photos were taken in the inter-tidal zone of rock pools, and the new edition has includes photographs taken in commercial aquaria, due to their vast improvement over the last 15 years. Photomicroscopy has been utilised as a technique, and many of the photographs of fish are taken by Dennis King, South Africa's premier fish photographer.
By Jeannie Mckeown
Picture supplied. Professor Charles Griffiths
Source:
Please help us to raise funds so that we can give all our students a chance to access online teaching and learning. Covid-19 has disrupted our students' education. Don't let the digital divide put their future at risk. Visit www.ru.ac.za/rucoronavirusgateway to donate