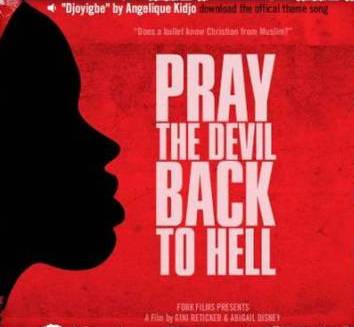 As part of its monthly documentary screening, the Department of Political and International Studies presented the multiple-award winning documentary, Pray the Devil Back to Hell at the Barratt Lecture theatre last Thursday. This film chronicles the remarkable story of the courageous Liberian women who helped end a bloody civil war and bring peace to their shattered country in 2003. 
Thousands of ordinary mothers, grandmothers, aunts and daughters – both Christian and Muslim – came together to pray for peace and then staged a silent protest outside Liberia's presidential palace. This was the first time in the country's history, that women from across religious divides, united over a single cause. Armed with only white T-shirts and the courage of their convictions, they demanded a resolution to the country's civil war.
The film reconstructs this incredible event through interviews, archival footage and striking images of contemporary Liberia. It is a compelling testimony to the potential of women to alter the history of nations. Professor Julie Wells, who led the discussion after the film, said that we can all take one very important message from this story: "it can be changed". Prof Wells said that when women apply their minds, they can achieve something powerful that only they can achieve.
In one of the most profound scenes, the women sat outside the hotel room where the peace talks were taking place in Ghana. They refused to move until a deal was made. When faced with eviction, the women threatened to remove their clothes. Their threat prevailed, as the men knew that looking at a naked woman was a sign of disrespect. The culmination of the women's courageous demonstration was the exile of Charles Taylor and the election of Ellen Johnson Sirleaf, Africa's first female head of state.
For the producers of the film, Gini Reticker and Abigail E. Disney, this story was important to tell because it had almost disappeared on account of the women's modesty and the international media's immediate preoccupation with Iraq.
Pray the Devil Back to Hell has won multiple awards, including Best Documentary at the 2008 Tribeca Film Festival, the Audience Choice Award at the 2008 Jackson Hole Film Festival, the Witness Award at the 2008 Discovery Channel Film Festival, and the Social Justice Award for Documentary Film at the 2009 Santa Barbara International Film Festival, and many more.
By Nompumezo Makinana
Picture supplied
Source:
Please help us to raise funds so that we can give all our students a chance to access online teaching and learning. Covid-19 has disrupted our students' education. Don't let the digital divide put their future at risk. Visit www.ru.ac.za/rucoronavirusgateway to donate