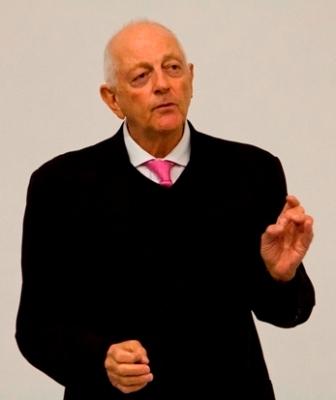 The term 'global financial crisis' is a misnomer, said the banker and Non-Executive Chairman of specialist banking and asset management group, Investec, Dr Hugh Herman. At his talk, 'In the wake of the Global Financial Crisis: Towards a Sustainable Banking Sector', the Rhodes alumnus challenged the widespread notion that the late 2000s economic crash created an international fall-out, arguing that its consequences were largely confined to the US, UK, Europe and Japan. 
At the second in a series of forums put on by the Rhodes Business School, Dr Herman discussed the origins of the crisis, what economies were doing to recover and ways to prevent future crises. But before he began, he laid his cards bare to his audience of Rhodes Business students, lecturers and students from Kingswood College: "If I say anything that sounds offensive, keep in mind I am a banker and, today, bankers are much maligned people," he joked.
Firstly, he believes that the market crash in the West should not be so narrowly attributed to unscrupulous bankers. Blame should rather be spread appropriately between banks, regulators and people who unwisely sought loans they could not afford. He cited the difference between American and South African mortgage markets as one possible reason for the general lack of personal accountability for debt in the US. "In America, they cannot pursue the individual," he said, "When a person defaults the institution gets hit."
In Dr Herman's analysis, the crisis might have been avoided with better government regulation. He said the duty of a regulator was to make sure no bank was too big to fail and it possessed sufficient capital, and to monitor banking practices. He mentioned that governments like South Africa have a more tightly regulated banking system and would not have allowed such crucial financial centres to take such enormous financial risks.
He noted that a major cause of the financial crisis was improperly regulated securitization, or when banks "slice and dice mortgages, package them together and sell them off to other institutions." Though securitization is a legal practice, rating agencies – who were charged with assessing the debt risk of these packages – erroneously ascribed a safe grading to bundles, thereby making them more attractive to foreign investors.
"It was irrational exuberance," said Dr Herman, borrowing the words of Alan Greenspan, former Chairman of the US Federal Reserve. So what have economies done in response? He compared the recovery approach of different economies like Ireland and Greece, indicating that Ireland's economy is on the road to recovery, while Greece's is "totally insolvent". Dr Herman said the US economy was emerging successfully from the crisis and referred to the fact that major companies like Ford and General Motors were now making profits and every bank had paid back their debts with interest.
"The global financial crisis – which is not a global financial crisis – is now behind us," he declared. "So now we're wrestling with the issue of how to prevent a recurrence." Dr Herman was adamant that any institution dealing with public money must be regulated – but not too heavily. "It is the duty of government to make it easy for them to do business." He added that a moral and ethical approach was crucial for those conducting business, and could have helped prevent the fall-out.
Rounding off his talk, he spoke to the economic struggles of South Africa, encouraging an attitude of optimism amongst future business men and women. "If we look at the world we are still in good shape," Dr Herman said, citing natural resources and commodities as reasons the country's economy would continue to grow. He defined business as essentially the practice of relying on wisdom to take calculated risks and he encouraged the audience to seize opportunities and take risks. In a final charge, Dr Herman said: "I hope you will be optimists because optimists make the world go round."
By Hailey Gaunt
Photo: Dr Hugh Herman
Photo by Hailey Gaunt
Source:
Please help us to raise funds so that we can give all our students a chance to access online teaching and learning. Covid-19 has disrupted our students' education. Don't let the digital divide put their future at risk. Visit www.ru.ac.za/rucoronavirusgateway to donate