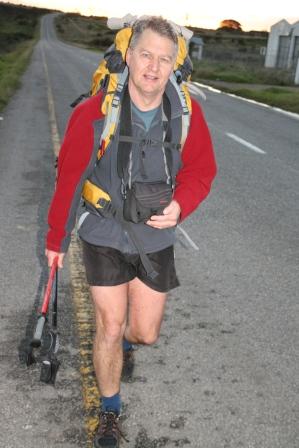 Tutu backs saying it's a 'wonderfully inspired and inspiring idea'
A GRAHAMSTOWN education professor has taken a sabbatical from Rhodes University so he can go on an epic walkabout from the City of Saints to Nelson Mandela's Robben Island prison cell.
After years of planning, former Education Dean George Euvrard finally realised his dream of pioneering a back roads trail to rival other famous walking routes around the world.
Leaving Grahamstown at sunrise yesterday morning, not even icy winds and single digit temperatures could deter the excited 56-year-old from his mission to open up a route to Robben Island that will allow people from around the world to follow in his footsteps.
"I got the idea when I did a pilgrim trail in Spain that finally ended at an impressive cathedral," he explains as he purposefully strides down a dusty dirt road out of Grahamstown.
Unlike other popular pilgrimages that usually have a distinct religious bent, Euvrard hopes his Indlela yoBuntu Pilgrimage route will help people discover and explore their own faith - whatever that may be.
Known the world over, choosing Mandela's Robben Island prison cell as the journey's end is a stroke of genius that should not offend anyone. Another plus of the walk is that people can do it in stages, over years if they want to.
"I hope the route will one day give people some time out to contemplate the bigger picture of life."
Although reluctant to quantify just how much the self-walk will cost pilgrims each day, Euvrard says he hopes it will eventually empower poor and marginalised people in rural hinterlands along the way.
Already familiar with the terrain from many exploratory trips in the region - including meeting farmers to get permission to walk their lands - Euvrard is hoping pilgrims will be able to get a hot dinner and a bed in converted barns and sheds along the way.
Clocking up 30km to 50km a day, the super-fit adventure athlete walked so fast with a 15kg pack on his back, the Daily Dispatch battled to keep up. 
Although the weight of the contents in the worn backpack may deter most people, Euvrard is quick to point out he is in fact travelling light.
Two litres of water, a pair of socks and underpants, a raincoat, a ready mixed muesli, creamer and sugar concoction, sleeping bag, blow-up mattress, camera, cellphone and pens and paper do not sound like much for two weeks on the road.
After a decade as Rhodes' Dean of Education, the East London-born academic decided to step down late last year to go on sabbatical to pursue his Indlela yoBuntu Pilgrimage dream.
Over the years, Euvrard has been compiling information about the people, culture, history, geology and other interesting tidbits along the route and he plans on making it available to people keen on following in his footsteps.
Once he has properly plotted the route to Knysna, the energetic educationist will start planning the walk along the next stage.
The epic walk has been given the thumbs up by Archbishop Emeritus Desmond Tutu. In a letter to Euvrard, the Nobel Peace prize winner called the trip "a wonderfully inspired and inspiring idea".
"Our country and people desperately need dedicated and disciplined time and space to contemplate what it means to be fully human in the spirit of ubuntu, and the Indlela yoBuntu Pilgrimage will provide such a national resource.
"At the same time, it offers international visitors an opportunity to experience the richness of an African way of being."
According to Tutu, the pilgrimage has the "potential to become a kind of South African rite of passage, a brave and committed undertaking which confirms the participants' willingness to learn about themselves, their place and purpose in life, and how to be socially and environmentally responsible citizens".
Euvrard's trip - and the reasons for setting up the pilgrimage - can be checked out at http://www.indlelayobuntu.co.za
Source Daily Dispatch
Story by DAVID MACGREGOR
Photo by DAVID MACGREGOR
Source:
Please help us to raise funds so that we can give all our students a chance to access online teaching and learning. Covid-19 has disrupted our students' education. Don't let the digital divide put their future at risk. Visit www.ru.ac.za/rucoronavirusgateway to donate