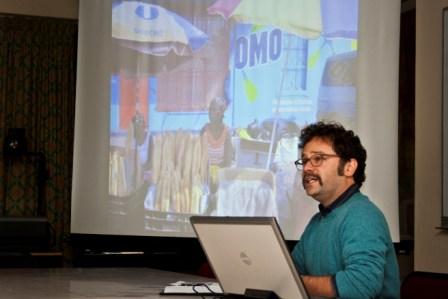 As part of the Rhodes University Postgraduate Seminar Series, Dr Joshua Kirshner of the Department of Geography recently presented, "Maputo: Transformations and Continuities in an African City" which used photography to give a glimpse into the architectural and spatial continuities, as well as the transformations in the city. 
Dr Kirschner's talk was based on field research he conducted in Maputo, Mozambique in March and April of this year.
Maputo has witnessed dramatic changes over the past four decades, including the end of Portuguese colonialism, the rise of a one-party socialist state, prolonged civil war, and the advent of parliamentary democracy and market oriented development. In considering continuities and transformations between how the city appeared years ago and what it looks like today, Dr Kirshner said one could see both transformation and disjuncture with the past. "You can still see remnants of Portuguese culture in the built environment that hasn't been completely eliminated, but the buildings aren't being used the way they used to be," he said.
Dr Kirshner described some of the remaining architecture in the lower part of the central city, or "cidade baixa", as embodying a Caribbean feel that is reminiscent of New Orleans, with its balconies and outdoor cafes. At the same time, the city has examples of modernist architecture, including blocks of flats with caged-off balconies. Dr Kirshner said there are still signs of the socialist period of the late 1970s and 80s in the form of streets named after communist leaders. The Universidade Eduardo Mondlane is named after the former leader of the Mozambican Liberation Front (FRELIMO) who reigned from 1962 until his assassination in 1969.
"Another fascinating continuity is the Louis Trichardt Memorial Garden, a monument to the Voortrekkers who reached what was then Lourenco Marques (now Maputo) to secure access to a seaport in the 19th Century. The party died of malaria shortly after arriving, "but the monument has survived waves of change including Mozambican independence in 1975, civil war, and the end of apartheid in South Africa," Dr Kirshner said.
The city does have a large shopping centre which was built in 2006, but Dr Kirshner said this is more of a white elephant in a city whose majority population doesn't make use of it. "I went in a couple of times to get a sense of the place but I saw different types of people compared to who you see in the streets. It was very empty, with shopkeepers literally falling asleep on chairs outside their shops," he said. Dr Kirshner said the ratio of shop owners to potential customers was very high, illustrating the growing social polarisation that has occurred in the city since the end of socialist rule. "The city has been expanding but at the same time there's a growing social inequality and polarisation. You see examples of elite housing but also of people with little food gardens trying to supplement their income amid rising costs of living," he added.
Story by Sarah-Jane Bradfield
Photo by Sophie Smith
Source:
Please help us to raise funds so that we can give all our students a chance to access online teaching and learning. Covid-19 has disrupted our students' education. Don't let the digital divide put their future at risk. Visit www.ru.ac.za/rucoronavirusgateway to donate