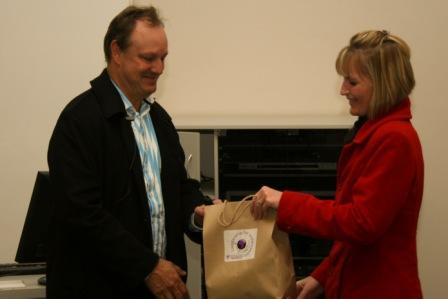 Business should not only operate with economic imperatives, said Mr Wayne Duvenage, Chief Executive of Avis Rent a Car South Africa. "There's a drastic need required regarding the moral attitude of business if we are going to live in a more sustainable world," he said. 
In what was the third forum in the latest series hosted by the Rhodes Business School, Mr Duvenage discussed Avis' journey towards a more sustainable, green company at his talk, "Sustainable Action: A Business Imperative".
In 2007, Avis South Africa decided to be more proactive about environmental issues and began to audit the energy and water usage of their various locations. "We needed to review what we were doing around the topic of the environment and sustainability," he said who asserted that it was Avis' moral stance on environmental issues that compelled the company to scrutinize, and eventually modify their practices. Though he acknowledged Avis has saved considerably on energy costs, Mr Duvenage said the push to 'go green' was not an economic one.
During the audit, Avis discovered that for every car washed in its high-pressure drive-thru machines, an average of 250 liters of water was used. They learned that the South African car rental industry consumed 500 – 600 million liters of water a year. Sobered by the statistics, Avis began to explore ways of reducing water consumption that would not hamper their efficiency or standards of customer service. In 2008, the company upgraded its' car washing facilities with water recycling technology, costing the company R2.6 mil. As a result, however, Avis could now recycle 85 percent of the water used in car washes.
"The sustainability drive took the blinkers off", said Mr Duvenage, "business gets so caught up in [generating profit] that you actually don't realize how much you waste." By employing the water recycling technology and installing rain water tanks, Avis has saved 75 mil liters of water to date. But Avis didn't stop there. In addition to conserving water, the company was determined to do its part in counteracting climate change and, in 2009, decided to become a carbon neutral company. Again, it audited emissions and found that the company releases nearly 9974 tons of carbon per year. To offset these emissions, Avis purchased 10,000 worth of carbon credits, costing approximately R1 million per year.
Although Avis can attest to the benefits of implementing more sustainable practices, Mr Duvenage acknowledged business had legitimate barriers to the green conversion. For one, it's costly, he said, and often the return is perceived to be too far off. He also recognized that customers are often unwilling to pay extra for more green products. "You have to introduce your product at a price that is affordable to the market you are trying to attract," he said. He believes that businesses need extra incentives to make the sustainable shift, citing the need for an authentic accreditation process for green businesses and better legislation and tax breaks as necessary motivations.
Mr Duvenage's suggestions for those considering the sustainable journey? "Don't overcomplicate it – just find out your own impact," he said, recommending that a business identify "big ticket" items and focus their attention on those. Also imperative to successfully driving a more environmental approach is involving staff within the company. "There are an amazing amount of people who are passionate about the environment and community issues," said Mr Duvenage. Thus for or environmental sustainability to truly be integrated into a business' practice, he believes it must be a shared moral and ethical value that moves fluidly from the top-level executive to the employee on the ground.
Picture and story by Hailey Gaunt
Source:
Please help us to raise funds so that we can give all our students a chance to access online teaching and learning. Covid-19 has disrupted our students' education. Don't let the digital divide put their future at risk. Visit www.ru.ac.za/rucoronavirusgateway to donate