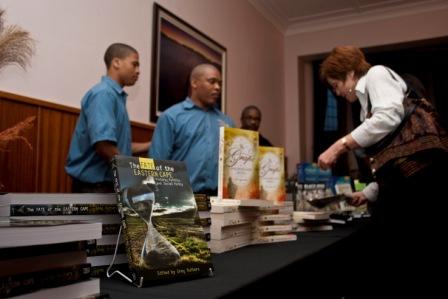 The publishing achievements of Rhodes-affiliated academics were celebrated this week at a first of its kind book launch hosted at Rhodes. 
Describing the event as "a recognition and celebration of the publishing achievements of Rhodes academics and alumni", Vice-Chancellor, Dr Saleem Badat said he would like to introduce it as a biannual happening. "Taking into account the demands on academics in the form of teaching, administration, community engagement and research, the publication of a book by a colleague is an event to be celebrated," he said.
"Books can be enchanting and can launch us onto flights of wonder. There is something magical about writing a book, and the launch of a new book is an inspirational and special event," added Dr Badat.
Taking centre stage at the launch, which was attended by academics, students and Grahamstonians, was the Institute of Social and Economic Research's (ISER) "The fate of the Eastern Cape: History, Politics and Social Policy", which was published earlier this year.
This collection of essays, edited by Professor Greg Ruiters, former Director of ISER and Matthew Goniwe Professor in Society and Development at Rhodes, combines historical accounts with current socio-political analyses of the Eastern Cape, in a first of its kind take on provincial politics. "For me this is a landmark book. There seemed to be a huge gap on literature on the economic, social and political challenges of the Eastern Cape, and I thought, shouldn't we have a book on the Eastern Cape? This book is essentially a biography of a province. The opening conundrum of the book is the question of the architecture of our governmental system," which Prof Ruiters said was born out of a particular political deal, which has particular political implications.
Contributor and Professor of Social Policy and current Director at ISER, Prof Robert van Niekerk, said Prof Ruiters' "socio-political imagination" is reflected powerfully in the book, which considers social problems in an imaginative way. In exploring economics, the environment, development and service delivery, with reference to various case studies, the book recounts the biography of post-1994 Eastern Cape, and contributes to debates about future policy prescriptions and the future of provinces in South Africa.
Other books celebrated at the launch included Professor Paul Maylam's "Enlightened Rule: Portraits of Six Exceptional Twentieth Century Premiers". Known as "an age of catastrophe", the twentieth century was characterized by devastating wars and a general poverty of leadership at government level. This book features biographical essays on six twentieth century heads of government who were exceptions to the norm, including José Batlle y Ordóñez of Uruguay , Lázaro Cárdenas of Mexico , Juan José Arévalo of Guatemala, Jawaharlal Nehru of India, Olof Palme of Sweden and Nelson Mandela. "I used to ask people to mention some leaders from the twentieth century who they admired, and often people couldn't think of anyone. That got me thinking. These are personal, subjective choices but I hope the book will stimulate thought and debate about the nature of government leadership," said Prof Maylam, who has been Professor of History at Rhodes since 1991 and authored or edited five other books in the field of southern African history.
Playwright and academic Anton Krueger's "Experiments in Freedom: Explorations of Identity in New South African Drama" was also featured. The book is a study of post-apartheid identity formation through an analysis of South African drama. The book considers about a dozen English plays, written and produced between 1994 and 2004, and considers notions of ethnicity, nationalism, gender and race in identity construction.
Chancellor of Rhodes University, Professor Jakes Gerwel's "Grape - Stories of the Vineyards in South Africa" was also featured in absentia of the author.
Story Sarah-Jane Bradfield
Photo Sophie Smith
Source:
Please help us to raise funds so that we can give all our students a chance to access online teaching and learning. Covid-19 has disrupted our students' education. Don't let the digital divide put their future at risk. Visit www.ru.ac.za/rucoronavirusgateway to donate