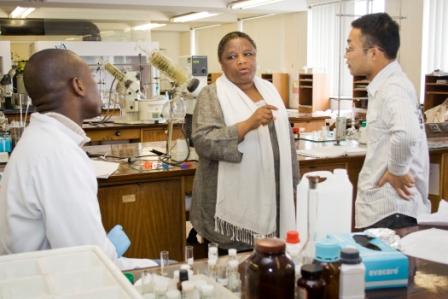 The Rhodes University professor of Medicinal Chemistry and Nanotechnology, Tebello Nyokong, says the Award for her Scientific Achievements by the International Conference on Frontiers of Polymers and Advanced Materiel (ICFPAM) is an honour, especially since it is awarded in memory of the centenary of the first Nobel Prize in Chemistry awarded to a woman: Marie Curie.
The award is also an honour for Prof Nyokong because it has been received in the year of Chemistry.
Prof Nyokong said that every award is important to her and it reaffirms that hard work pays off, "I'm extremely hard working by nature and hard work is what keeps me going.
"These awards may be bestowed on me but they are really for my students because I work with them."
Prof Nyokong added that she is strongest when she is faced with obstacles – this is when she has the strength to break barriers.
The first major award she received was in 2004: Woman of the Year in Science and Technology, organised by Shoprite and in conjunction with SABC 2. She said, "It came as a surprise because I was not prepared. I don't plan for awards, I just work, and I am very fortunate that I get recognised for my hard work and determination".
She says "I do train my graduate students to work hard, I want to make sure that the next generation also knows the rewards of hard work."
She added playfully that her office is beginning to look like a museum of awards, but is thankful for all the recognition.
Story by Thembani Onceya
Source:
Please help us to raise funds so that we can give all our students a chance to access online teaching and learning. Covid-19 has disrupted our students' education. Don't let the digital divide put their future at risk. Visit www.ru.ac.za/rucoronavirusgateway to donate