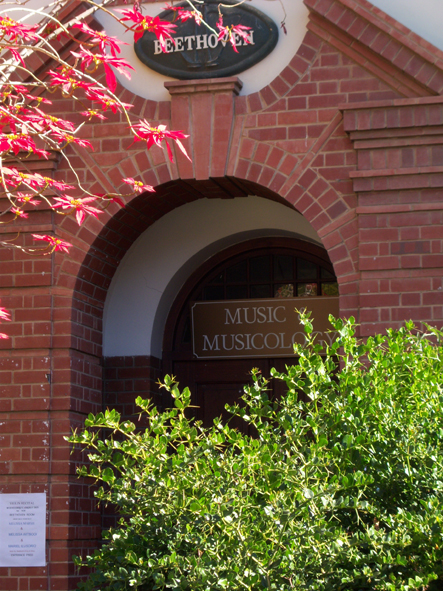 International delegates such as Dale Cockrell and Greg Barz from the Blair School of Music at Vanderbilt University in Tennessee will be visiting Rhodes this week as part of the 2011 South African Society of Research in Music (SASRIM) Conference, hosted by the Department of Music and Musicology.
The conference will draw together 85 delegates, both national and international, to present papers on topics such as 'Analytical Considerations in South African Compositions', 'Jazz Studies', 'Musicians Health' and 'Changes in Traditional Musical Practices'.
The delegates will be welcomed to Grahamstown by Professor Zelda Potgieter, Chair of SASRIM, along with Professor Fred Hendricks, the Dean of Humanities, and Dr Jeffrey Brukman, Head of the Department of Music and Musicology.
The conference has no set theme which means that a great variety of issues relevant to the music research community will be covered.
Topics on which papers will be presented include, among many others: 'The Performer's Experienced Emotions while Performing' by Rhodes Senior Lecturer Catherine Foxcroft and 'Of Jazz, Publics and Counter-Publics: reflections on South Africa's parallel jazz worlds' by Brett Pyper.
There will be a Composers' Forum chaired by Dr Nishlyn Ramanna, also from the Department of Music and Musicology, and a roundtable discussion, chaired by Alvin Petersen (NWU), on 'SASRIM/African Music/Music Education – an Intercollaborative Opportunity or an Insurmountable Problem?'
Conference delegates will have the opportunity to attend a free Jazz concert in the Beethoven Room on the Thursday evening, and Friday evening will see Shirilaulu vocal duo featuring coloratura soprano and Rhodes postgraduate student Yemu Matibe performing accompanied by Dr Brukman.
Source:
Please help us to raise funds so that we can give all our students a chance to access online teaching and learning. Covid-19 has disrupted our students' education. Don't let the digital divide put their future at risk. Visit www.ru.ac.za/rucoronavirusgateway to donate