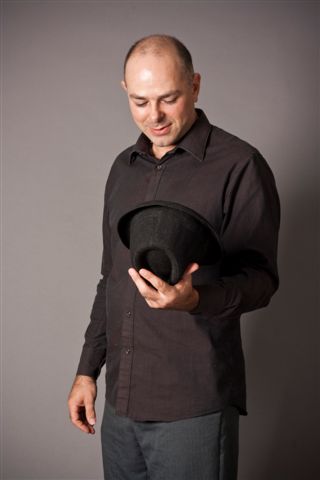 Dr Anton Kreuger and Marike Beyers recently launched their debut collections of poetry titled Everyday Anomalies and On Another Page respectively. They are two of the Grahamstown poets launching at the Eastern Star Museum this month.
Talking about the title of his book, Kreuger explained that it is meant to be a kind of oxymoron: "anomalies" are odd events, or out of the ordinary occurrences, so by sticking "everyday" in front of the word, it's kind of a joke about how common things can be seen, if not necessarily always as extraordinary, nevertheless as "anomalous", or odd.
The collection is a grab bag of everything that he has done up to now, "it's a collection culled from lots of poems over many years. Some of the poems go back maybe fifteen years, others were written earlier this year; so there isn't really a strong central theme except that they're all anomalous" he said.
Kreuger said that a lot of the earlier poems were specifically written for performance, when he was part of a "bekgeveg" crew in Pretoria along with Leon de Kock, Henning Pieterse and Charl-Pierre Naude and run by Demos Takoulas. They used to have a poetry slam show that they performed at Afrikaans festivals as well as at bars, theatres and libraries around Gauteng. "I was also the poetry editor on Litnet and wrote some stuff during those years and since I've been in Grahamstown I've taken part in the ISEA creative writing course run by Robert Berold and I've started writing new things in connection with that".
More recently he has started transcribing notes into poems, and "instead of writing more poetry I'd like to further explore the genre of the note". This is different from work that he has published before as it is his first collection of poetry.
In 2010, he published Experiments in Freedom: Issues of Identity in New South African Drama, which won the Rhodes Vice-Chancellor's Book Award for 2011. This book examines the ways in which identities have been represented in recent South African play texts published in English. He has also written fiction in a range of genres, including a novella Sunnyside Sal- set in the early 1990s; it is a story of two young boys whose changing hormones coincide with a country going through its own rebirth.
In 2003, he wrote the play Living in Strange Lands, which was awarded a special trophy by the South African Community Theatre Association in 2001; was nominated for the Olive Schreiner as well as for the FNB Vita Award. In 2010 Anton was a runner up for the Dalro Poetry Prize.
Beyers, who is a curator at NELM, said that her collection was a lot more personal and directed towards the people close to her but she hopes that others will recognise something for themselves in it as well. She took part in a poetry postcard project where she had to write a poem on a postcard and send it to someone every week, and this is how some of her poems were started. "These poems needed quite a lot of shifts even before I included them in the manuscript, but they were starting points," she said.
Beyers thought the launch was a success as "we have many lovely people supporting poetry in Grahamstown and it made the launch something special".
Story by Nompumezo Makiana
Picture by Sophie Smith
Source:
Please help us to raise funds so that we can give all our students a chance to access online teaching and learning. Covid-19 has disrupted our students' education. Don't let the digital divide put their future at risk. Visit www.ru.ac.za/rucoronavirusgateway to donate