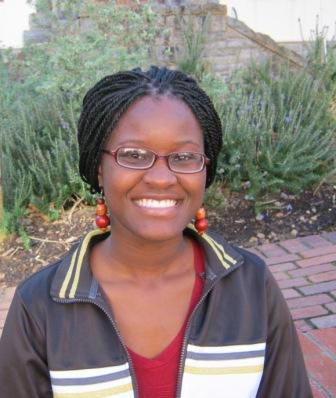 Linda Midzi is one of 25 emerging young women selected to be a Fellow of the Moremi Initiative for Women's Leadership and Empowerment Development (MILEAD). 
Hailing from 25 different African countries and the Diaspora, the 2011 Fellows represent Pan-African diversity, with multi-disciplinary academic, professional and social backgrounds. Ranging from 19 to 25 years, these women are actively leading change on critical issues from grassroots to international levels. The Fellows will converge in Accra, Ghana in July for a three-week intensive leadership programme hosted by the Institute of African Studies at the University of Ghana. Here experienced women leaders will mentor the Fellows, where together they will cross-examine concepts of leadership in the broader African context and cultivate the skills and experience required to excel in their leadership positions.
Midzi spent three years completing her BSc, majoring in Chemistry, Biochemistry and Microbiology. Last year she completed her PGCE (intermediate phase) and is currently busy with her Honours in Chemistry.
Soft-spoken and gentle, this petite young woman clearly cares about what is happening around her, which shows in the breadth of her leadership activities. Midzi was a sub-warden at Hobson House for two years and is currently the warden at Gavin Reddy Postgraduate Village and while she was Vice-President Internal of the Rhodes Business Society she hosted a conference. "I have been exposed to different ideologies and this has broken down the apathetic mindset that tends to exist among the student population," she says.
A natural leader, she served as the chairperson of the Golden Key Society where she spearheaded a tutoring programme where "academic minds are brought in to help struggling students". Back home in Zimbabwe a group of her friends formed the Dare to Serve project where they visit old age homes, orphanages, conduct street outreaches and more recently, started a street school to help educate the children on the streets. They're also planning to host youth conferences, with the first one being held in August this year. "Its main aim is to ignite a passion or service in the heart of the future generation," says Midzi.
She heard about the Moremi Initiative through her sister, Violet who is studying at Fletcher University in the USA. This caused her to express her regret that often people working and living in other countries have easier access to programmes that enrich African leaders. "The general location of Rhodes University puts it out of the way of issues that are happening in the larger cities, making some students oblivious to the matters occurring on a local, national and international scale. "Throughout my years at Rhodes, I have learned to take the opportunities to develop my skills and character that are presented to you when one is actively involved in the community."Among over 500 applicants, she was delighted to be contacted to appear on the shortlist, after which she conducted a telephonic interview at the end of May.
Midzi says she manages to fight apathy, particularly regarding the unstable situation of her mother country, by reading widely and staying up-to-date on African politics. "Knowledge can empower you by allowing you to gain perspective and formulate an opinion on matters that you may not have been formally educated on," she says. "I also make an effort to be part of the solution in someone's life, and try to get involved in programs that directly benefit the lives of people who have not grown up with the privileges afforded to others."
By Anna-Karien Otto
Picture by: Anna-Karien Otto
Source:
Please help us to raise funds so that we can give all our students a chance to access online teaching and learning. Covid-19 has disrupted our students' education. Don't let the digital divide put their future at risk. Visit www.ru.ac.za/rucoronavirusgateway to donate