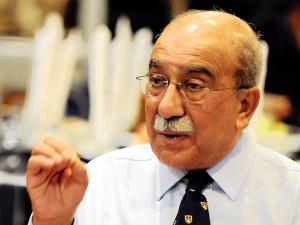 Since the passing of Prof Kader Asmal on Wednesday 22 June, I have seen his photographs, read the many tributes, and continue to hear his voice, acerbic, probing, laughing, always engaged. I repeatedly acknowledge how fortunate I was to know him and work with him. In 1995, as the first Minister of Water Affair and Forestry in our new democratic government, Professor Asmal appointed a Water Law Review Panel, with representation from the aquatic sciences research community. Over the next three years the panel, then a steering committee and finally a drafting committee worked closely with Professor Asmal in producing new water policy and legislation for South Africa. 
He had been in exile in Ireland, working at Trinity College Dublin as a professor in law, and came home determined that water inequities would be redressed. At the time, South Africa's rights to water were linked to land ownership. Landowners had "riparian rights" and ready access to "public" water. They "owned" ground water and water in smaller streams and could use this "private water" at will.
Professor Asmal was convinced that it was no use tinkering with amendments to the 1956 legislation and he embarked on total water policy and legislative reform. He convened the panel to oversee the process, which was funded by Finland. The general and sectoral public were consulted and the panel was tasked with producing a set of principles in which the policy and law would be based. Once these principles were passed by cabinet, the policy was written and approved, and the drafting process followed. This was the important fundamentally democratic approach that Prof Asmal had to addressing issues, which continued until last week when he wrote again about not fiddling with the proposed Information Bill, but getting the principles correct.
It was clear that in seeking water law reform it was unwise to wait for land reform the resolve access issues. So it was recommended that water and land rights be dissociated, and for the government to become the custodian of water – to hold it in "public trust", to be used for the equitable benefit of all South Africans. So equity was the first founding principle of the new law.
At the same time Prof Asmal was open to the view that we needed to protect our fragile and limited water resources. On our planet water is delivered through the water cycle – evaporation from the vast oceans and smaller lakes and rivers, condenses to cloud and falls as rain and snow or forms as dew – and under the force of gravity trickles, runs and seeps downhill – flowing in rivers and sinking into groundwater. The new law recognised the unity of the water cycle – and the need to protect the aquatic ecosystems – rivers, lakes, aquifers and estuaries - on which people depend.
Professor Asmal, the academic, supported Finnish funds being used to ensure the emerging policy and law made full use of the most current research. At the time South African aquatic ecologists and hydrologists like Professor Jay O'Keeffe and Professor Denis Hughes of Rhodes University were world leaders in the development of methods to quantify environmental flows, establishing how much water aquatic ecosystems need to remain functional. This capacity enabled Adv Francois Junod, the country's leading water lawyer, to deem environmental flows defensible in law. So the globally innovative and acclaimed concept of the "Reserve" was accepted. The first call on water, and the primary right to water, is reserved for water for basic human needs as stipulated by the United Nations, and water for the maintenance of aquatic ecosystem structure function. The second founding principle of the law is therefore sustainability.
However the road to the ground-breaking and imaginative legislation was not dry – it was a feisty, engaged and human process. Professor Asmal was astonishingly present. He would argue principles and explore options, call meeting and probe arguments. He listened. His energy was legendary and prodigious and he would leave staff and volunteers exhausted and awed. Everyone will have their own memories. I well remember arguing the merits of Catchment Management Agencies with him.
In 1997 Kader was awarded an LLD honoris causa at Rhodes University for his contribution to South African Water Law. It was a great celebration. Celebrations for Kader Asmal were always accompanied by single malt Irish whisky and the exercising of his skills as a raconteur!
Thanks to Professor Asmal, we still have that extraordinary water law and policy and we must continue to struggle with the restraint, care, skill and generosity required to exercise and enjoy deep fairness and to enable a sustainable future. Kader Asmal's vision and voice enjoin us to work at this. To become real citizens – real people, deserving of the country we inherit from those who engaged in the great struggle.
Picture: source IOL website.
By Professor Tally Palmer
Institute for Water Research, Rhodes University and
Chairperson, National Water Advisory Council
Source:
Please help us to raise funds so that we can give all our students a chance to access online teaching and learning. Covid-19 has disrupted our students' education. Don't let the digital divide put their future at risk. Visit www.ru.ac.za/rucoronavirusgateway to donate