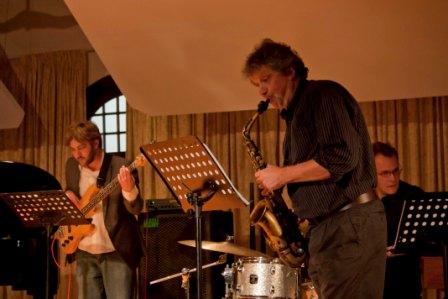 The SASRIM Conference held at Rhodes last week, was extremely successful and allowed delegates to increase their knowledge of the latest trends and issues of the music world, says Head of Music and Musicology Dr Jeff Brukman.
On the opening night the 85 delegates were treated to a guided tour of the "For Future Generations" exhibition, which showcases the work of Hugh and Andrew Tracy and is on display at the Albany Museum.
Mareli Stolp, a PhD student from Stellenbosch University who presented a paper during the course of the conference, labelled it an "excellent opening day" and commented on the quality of the papers presented. She was also impressed with the level of interaction between the speakers and the delegates, particularly referring to the spirited discussion which arose during the Composers Forum.
Brett Pyper, well-known South African music researcher and cultural practitioner, welcomed the delegates to the conference and stated how pleased SASRIM was to be meeting in Grahamstown for the first time since the Society was inaugurated.
Greg Barz of Vanderbilt University, who is currently undertaking research in the Free State, summed up the atmosphere when he said how happy the musicologists in the room were; after all, nothing makes musicians and musicologists happier than talking about music!
Dr Brukman concluded, "The presentations were thoroughly prepared and professionally presented; there were no weak links in the chain and a high standard of research and academic rigour marked each paper.
"Roundtable discussions stimulated much debate and the Composer's Forum (consisting of Hans Huyssen - University of the Free State, Andile Khumalo from Columbia University, and Rick van Heerden – from the DSG in Grahamstown) stands out as an exciting interchange of ideas from three highly creative individuals."
Story by Jeannie McKeowin
Photo by Adrian Frost
Source:
Please help us to raise funds so that we can give all our students a chance to access online teaching and learning. Covid-19 has disrupted our students' education. Don't let the digital divide put their future at risk. Visit www.ru.ac.za/rucoronavirusgateway to donate