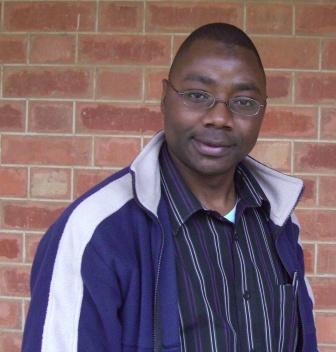 Dr Issaka Souaré of the Institute for Security Studies in Tshwane recently debated the reality and feasibility of finding African solutions to African problems during his presentation at the Department of Political and International Studies at Rhodes.
His presentation, entitled "How realistic is the slogan of 'Finding African solutions to African problems in the 21st Century'?" tackled issues surrounding the complex dynamic between African and western states in relation to economic assistance.
Dr Souaré unpacked the origins of the expectation that African states are better equipped to find better solutions to African problems than western states, what the possible constraints of the implementation of African solutions to African problems could involve and whether or not it is desirable or necessary.
As a senior researcher in the African Conflict Prevention Programme at the Institute for Security Studies in Tshwane (Pretoria), Dr Souaré outlined the central issue of why states tend to religiously defend their political territorial sites but seem to readily accept intrusion into their economic affairs.
He also outlined three reasons for this tendency, which include the nature of the Westphalian state system, which has given rise to extreme protection of state sovereignty especially by African states who have experienced colonialism and neocolonialism; the realities of the political interference, which are not always synonymous with the needs of the particular state; and the context of the assistance.
"The question is how to reconcile giving up parts of ones sovereignty to supranational organisations and wanting to exercise it yourself," said Dr Souaré, highlighting that international economic assistance may come with certain constraints on state sovereignty. "African states want countries to engage whenever they are called upon… then these countries say, 'Ok, but then we also have the right to intervene of our own accord even when you don't entirely agree," he said.
Solicitation of interference seems to be a key factor in many African states' engagement with the UN, as Dr Souaré suggested, adding that the difference between economic and political interference is that the economic is solicited while the political is uninvited. This is a fragile issue between African and western states and the dynamics are rather complex.
While African states enjoy the benefits of certain interference, they have to tread a fine line with donor states so as not to jeopardise future dealings. "The truth is that most states would probably be fine to leave African states to their own devices if African states didn't go to them and ask for economic assistance," said Dr Souaré.
Given the complexities of the dynamics, Dr Souaré suggested that the reality of aspiring to African solutions for African problems under the current circumstance is unrealistic, noting that many atrocities in Africa are committed by authorities and require management from external authorities to ensure fairness and transparency.
Additionally, African states have traded economic independence for economic interdependency, a move that entitles western states to mastermind and apply their own solutions to African situations. For Dr Souaré a more hopeful aspiration would be for African states to shift their dependency from the UN, which has a mandate and role to fulfill in its capacity as global political watchdog, to a predominantly African funded organisation such as the African Union. This would allow for the creation of African solutions to African problems, with a view of using the UN as a "savings account".
In conclusion, Dr Souaré suggested that African states are better equipped to find more effective solutions to African problems, mainly because outside states can sometimes be disinterested in situations until a particular interest is sparked, by which time it could be too late for effective assistance. Growing mistrust toward western states compounds the complex dynamics. "You are more likely to find a long lasting solution to something if you're affected by it, and Africans are," he said.
Dr Souaré has worked extensively on issues of governance and political instability in Africa, particularly Africa's international relations, unconstitutional changes of government, civil wars, political parties and leadership changes on the continent, with special focus on West and North Africa. He is the author of a number of books, book chapters and journal articles relating to
Africa, including Africa in the United Nations System, 1945-2005 (London, 2006), Civil Wars and Coups d'État in West Africa (Lanham, 2006 - also in French, L'Harmattan, 2007), the novel, Samassi (London, 2004) and, as co-editor, Somalia at the Crossroads (London, 2007).
Story by Sarah-Jane Bradfield
Photo by Siphokazi Magadla
Source:
Please help us to raise funds so that we can give all our students a chance to access online teaching and learning. Covid-19 has disrupted our students' education. Don't let the digital divide put their future at risk. Visit www.ru.ac.za/rucoronavirusgateway to donate