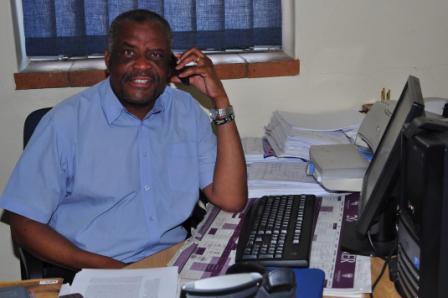 Rhodes University's Sol Plaatje Institute (SPI) for Media Leadership, the convener of the Africa Media Leadership Conference (AMLC) in the past nine years, has teamed up with the African Media Initiative (AMI) to strengthen their common goals of working to create sustainable, diverse and pluralistic African media.
The two organisations also seek to provide a range of platforms and learning initiatives so that
African media become "learning institutions which continuously seek to improve their performance to audiences and markets by providing high quality and ethical management and management systems and editorial and advertising content", AMI and the SPI announced today.
They will work to create and promote "greater collaboration among African media" and with other news organisations across the world that share their vision and goals. They will also collaborate on a range of programmes, including media management and leadership research and training.
The SPI, the only university-level institution in Africa and the developing world offering high level editorial and business management training programmes, has hosted the annual, pan-African AMLC in the past nine years, providing a critical platform to African media leaders to network and discuss key common challenges facing their companies at a time of rapid change brought by digital channels such as the internet, mobile phones and social media networks.
For nine successful years, the AMLC has been funded and organised in close partnership between SPI and KAS Media Africa, the sub-Saharan media programme of the German Konrad-Adenauer-Stiftung.
AMI seeks to strengthen the media, from an owner and operator perspective, so that the media can play its full role in promoting social development, economic growth and in empowering citizens to hold governments and other institutions to account.
Since 2008, AMI has organised every year the African Media Leaders' Forum (AMLF), the largest gathering to discuss and seek practical solutions to issues of common concern among themselves.
Earlier this year, KAS Media Africa and AMI announced a strategic partnership beginning with the hosting of a joint annual media conference on the African continent later this year - under the banner of the African Media Leaders Forum (AMLF).
"Given that both the AMLC and the AMLF were focusing on similar issues, it made better sense that both organisations joined hands, strengthened their reach and impact and leveraged on their combined economies of scope and scale," SPI Director Francis Mdlongwa said.
"We at the SPI are delighted to see the birth of this common-sense partnership, which will make it possible for Africa to speak with one voice on common issues."
AMI Chief Executive Officer Amadou Mahtar Ba said, "AMI is delighted to enter into this partnership with a leading learning African institution. The media community on the continent at large and
African media owners and operators in particular will directly benefit from this new endeavour.
"In a context marked by serious challenges to the media industry worldwide, AMI and the SPI will work together to help African media leaders to seize the real opportunities in this digital age."
The joint efforts of AMI, SPI and KAS media Africa mean that from this year onwards there will only be one pan-African media leadership conference, which will be hosted under the aegis of the AMLF.
This year's summit will be held in the Tunisian capital Tunis on 10 and 11 November.
Caption: SPI Director Francis Mdlongwa talks to one of the SPI's clients earlier this year
Source:
Please help us to raise funds so that we can give all our students a chance to access online teaching and learning. Covid-19 has disrupted our students' education. Don't let the digital divide put their future at risk. Visit www.ru.ac.za/rucoronavirusgateway to donate