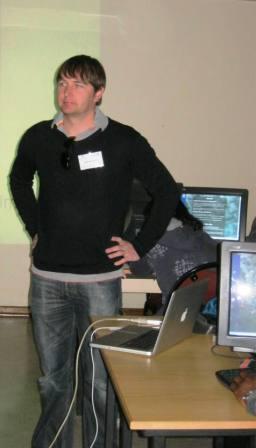 The European Bioinformatics Institute (EBI) roadshow on the Protein Data Bank (PDB) attracted postgraduate students from the Eastern Cape institutions and scientist from Rhodes University last week.
The roadshow was presented by Glen van Ginkel, who has extensive experience in PDB annotation, and is currently a software developer for the European PDB (PDBe).
The workshop received much interest and 29 students, postdocs and scientists from Rhodes, Nelson Mandela Metropolitan University and the University of Fort Hare participated. In this way, it achieved its objective to stimulate interest in structural biology and bioinformatics in the Eastern Cape.
The workshop included topics such as data integration and related services; data validation; PDBeXplore; PISA - assembly determination for crystal structures; PDBeFold - searching and aligning protein structures by secondary structure matching; chemistry related resources – PDBeChem; motifs and sites – PDBeMotif.
The workshop organiser and Rhodes University Bioinformatics (RUBi) group leader Dr Ozlem Tastan Bishop said "It was great to have Glen here. EBI is one of the best places to work in the bioinformatics field," said Dr Ozlem.
"There is a great deal of potential among the universities in the Eastern Cape Province to improve research and education in bioinformatics and related disciplines. RUBi would like to create opportunities to reach students within the Eastern Cape to attract them to this field."
Source:
Please help us to raise funds so that we can give all our students a chance to access online teaching and learning. Covid-19 has disrupted our students' education. Don't let the digital divide put their future at risk. Visit www.ru.ac.za/rucoronavirusgateway to donate