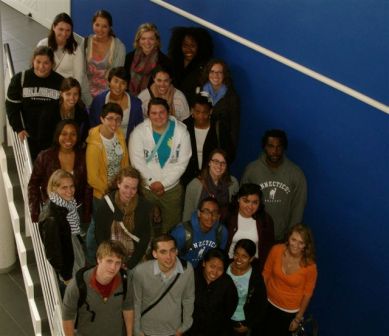 South African institutions of higher education have increasingly recognised the importance of internationalisation to keep apace with trends in research and all aspects of academic life - Rhodes University is no exception.
With 20 percent of its students hailing from international countries, it truly is a hub for diversity and multicultural activity. The recent arrival of 26 international students participating in a semester-long exchange programme only affirms Rhodes mandate, solidifying its commitment to learning from and with the rest of the world.
Of the 26 students, 12 have come from Connecticut College. Accompanying them is Prof Marc Zimmer, of the college's Chemistry department. This is the first time Rhodes has conducted an exchange programme that seeks to benefit both its student body and its faculty simultaneously. This opens up possibilities for other creatively conceived exchange programmes, said Orla Quinlan, Director of Rhodes' International Office. While here, the students will not only explore their major in another country with the Rhodes University lecturers, they will participate in 20 hours of community engagement. Prof Zimmer will teach his students two courses, one on South African history and the other on Environmental Chemistry.
"This model could be really interesting and enriching for both teachers and students," said Quinlan who has appealed to the Rhodes faculty to actively pursue international partnerships and seek out potential opportunities for exchange. She hopes that the faculty will also bear in mind changing global dynamics when thinking about possible exchanges. It is important that next generation of South Africans understand and build partnerships with the counties identified as the world's major emerging economies, known as the BRICS (Brazil, Russia, India, China and South Africa), for example.
Although Rhodes has 34 established institutional partnerships in 12 different countries for outgoing students, it hopes to expand its networks, particularly on the African continent. Currently, there is just one formal partnership in Africa with the University of Botswana, though several academics have collaborated on a less formal level.
Students have yet to discover the rich potential of exchange on their own continent, said Quinlan. "We deal with perceptions about what's attractive about other countries," she said, "I think it's a matter of uncovering our existing links across Africa and working with the academics who are already engaged with the rest of the continent. These academics can make students aware of what is unique and relevant to their areas of study in other parts of Africa. The International Office can support them to make it happen."
The success of international exchanges not only involves highlighting interesting opportunities, however, but also making them practically feasible for students. Having a formalised exchange agreement between two institutions means that students pay the tuition of their respective home institution, thus covering costs for the visiting exchange student. If food and accommodation is not included in a package, then Rhodes' International Office will attempt to provide extra support for the financial constrained student studying abroad.
The invaluable experience of living in another country is available and actively encouraged by Rhodes' International Office. An exhibit of all Rhodes international institutional partnerships, from the US to China, is currently on display in the Eden Grove. This Friday, 5 August, is the application deadline for students hoping to go on an exchange next year. Students are encouraged to visit the International Office and apply.
So much of learning occurs outside the walls of academia, subtly disguised in conversations, relationships and life experience. This is precisely the kind of holistic learning that the International Office seeks to promote. "A lot of what you learn when you go to another country, regardless of the specific destination, is about yourself, your assumptions, and the personal development opportunity comes with learning skills to solve problems, being comfortable with differences in others and understanding how you personally deal with change -- you can't always learn that in a classroom," said Quinlan.
By Hailey Gaunt
Source:
Please help us to raise funds so that we can give all our students a chance to access online teaching and learning. Covid-19 has disrupted our students' education. Don't let the digital divide put their future at risk. Visit www.ru.ac.za/rucoronavirusgateway to donate