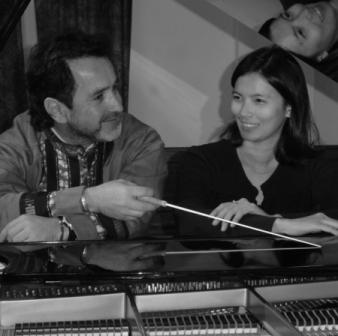 Juan, Mariel and Friends opened their 2011 Concert Series recently with a collaboration of acclaimed artists in Rhodes' the Beethoven Room.
According to Mariel Ilusorio (pianist), this year the series which is now in its fifth year, aims to connect classical music with other art forms. For the first concert, music and poetry came together.
Mr Juan Munoz (violinist) and Ms Ilusorio were joined by Erika Bothma (pianist) and Marian Lewin (cellist) in Arensky's Trio in D minor, Schubert's Trio in Bb major and Ravel's La Valse for 4-hands.
Acclaimed English poet Harry Owen, who moved to the Eastern Cape in 2008, performed readings of poems he had written based on these works which introduced each piece.
Erika Bothma is based in Port Elizabeth as senior lecturer at NMMU and is a widely-respected pianist, pedagogue, adjudicator and music organiser. This was Marian Lewin's third appearance in the series. Based in Cape Town, she is South Africa's doyenne of cellists and was honoured with the prestigious Parnassus Award in 2010 by the Music Department of Stellenbosch University for her extraordinary contribution in the South African classical music scene.
In the first half of the concert, Arensky's Trio was introduced with Mr Owen's poem called In the Detail, which was followed by A Genteel Response to Free Verse, written to accompany Ravel's La Valse.
The second half consisted solely of Schubert's Trio in Bb major, described by Mr Owen as "wonderful, wonderful", which was accompanied by a sonnet sequence, one for each movement.
Describing the event as a success, Ms Ilusorio, who teaches piano at various schools and institutions in Grahamstown and Fort Hare, said she was pleased with the way the collaboration came together. "It was nice to bring something new into the series. This year we thought it would be nice to connect with other art forms," she said. Mr Munoz, senior lecturer in music at Rhodes University, said the concert gives performers a chance to get outside artists involved and show students the level to which they should aspire as artists. "It was very well received by the audience. The way the poet read his pieces... What Harry did there was really stunning," Mr Munoz said.
Mr Owen said he felt the "experiment" of combining classical music and poetry "worked remarkably well, and the sense of privilege I felt, and continue to feel, at being able to work alongside such consummate professionals as Juan Muñoz, Mariel Ilusorio, Marian Lewin and Erika Bothma was something I shall long remember".
Mr Owen, the inaugural Poet Laureate for Cheshire (UK) in 2003, is the author of five poetry collections: Searching for Machynlleth (2000), The Music of Ourselves (2004), Five Books of Marriage (2008), Non-Dog (2010) and Worthy: poems for my father (2011).
The concert series is sponsored by the Rupert Musiekstigting.
Story by Sarah-Jane Bradfield
Photo supplied
Source:
Please help us to raise funds so that we can give all our students a chance to access online teaching and learning. Covid-19 has disrupted our students' education. Don't let the digital divide put their future at risk. Visit www.ru.ac.za/rucoronavirusgateway to donate