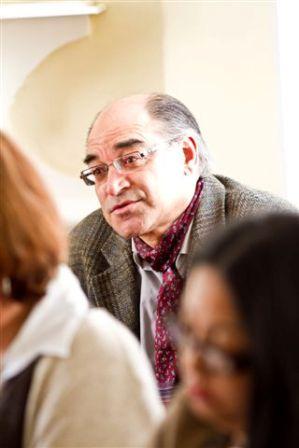 Rhodes University's Humanities Faculty will launch four new research and post-graduated focus areas funded through an USD800 000 Andrew W Mellon Foundation grant on Tuesday 26 July 2011.
The launch is part of a comprehensive programme to promote research and postgraduate development, and to increase the numbers of women and black researchers in the Faculty and at Rhodes.
The Faculty currently accounts for 40% of the entire student body. Comprising 11 departments and two schools, it has largely been responsible for the growth in undergraduate numbers at Rhodes in recent years.
However, not unlike other South African universities, the Humanities at Rhodes lag behind the Sciences in terms of the outputs of postgraduate students and the publication of research.
Under the Research and Postgraduate Education Development Programme (RPEDP), established and recognised scholars will manage carefully identified research focus areas in fields in which Rhodes is already a leading research institution or offers unique fields of study that will attract scholars and postgraduate students.
Freed from their existing commitments for negotiated periods, these scholars will lead research programmes, undertake research, and mentor and supervise Masters and Doctoral students, and Postdoctoral Fellows.
A critical aim of the RPEDP is to build research areas of direct relevance to societal needs in a way that will attract participation and funding. "The functions of critical scholars have changed since the advent of democracy," said Prof Hendricks. "I believe that we should reconnect as disciplines with ordinary people and part of this recovery is through engaging the State as part of civil society."
"Mellon has been remarkable for their support of the Humanities at Rhodes, most recently the research grants for the RPEDP. The idea is to consolidate expertise, particularly at a doctoral level with regard to issues of citizenship, nation and identity."
The focus areas were approved by the Institutional Planning Committee of the University, which is chaired by the Vice-Chancellor. "It has been fortuitous that there is one research focus area in each area within the Faculty," said Prof Hendricks. These include:
Media and Citizenship: Between marginalisation and participation led by Profs Herman Wasserman and Anthea Garman
Critical Sexual and Reproductive health studies led by Profs Catriona Macleod and Louise Vincent
Visual and Performing Arts of Africa led by Prof Ruth Simbao
SA Literature led by Profs Dirk Klopper and Mike Marais
Each focus area has been allocated R560 000 per annum for three years which includes two Masters scholarships valued at R60 000 p.a. each, two PhD scholarships valued at R80000 p.a. each, and one Postdoctoral fellowship at R130000 p.a.
The scholarships and fellowships will also be used to address historical challenges related to equity of access and to help cultivate a potential future generation of scholars. In addition, part of the Mellon funding agreement includes $95 000 to support WASA's research programme.
WASA, the Women's Academic Solidarity Association, provides women with an academic network to support their progress in completing their PhDs, publishing their work and serving as University leaders.
Story by Kerry Peter
Picture by Judith Doubell
Source:
Please help us to raise funds so that we can give all our students a chance to access online teaching and learning. Covid-19 has disrupted our students' education. Don't let the digital divide put their future at risk. Visit www.ru.ac.za/rucoronavirusgateway to donate