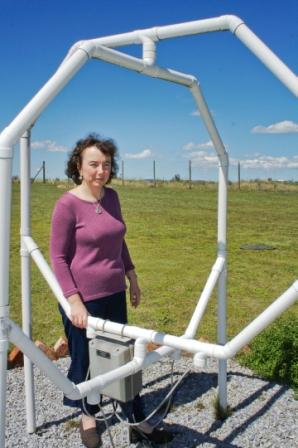 Dr Lee-Anne McKinnell, a long-time research associate and recently appointed Visiting Professor of Rhodes University, has been appointed as the Managing Director of SANSA Space Science, formerly the Hermanus Magnetic Observatory.
The facility functions as an active participant in the worldwide network of magnetic observatories (known as INTERMAGNET) and is also one of thirteen Regional Warning Centres globally that forms part of the ISES (International Space Environment Service) Regional Warning Centre network. Specifically, SANSA Space Science is appointed as the Regional Warning Centre for Africa.
Known as Rhodes University's 'Ion Lady', Dr McKinnell has worked for the past 16 years in the field of ionospheric research. She manages the Grahamstown ionosonde, as well as the archiving and quality assurance for South African ionospheric data. Her interests lie in the use of this data for the improvement and development of ionospheric models both locally and globally.
Deputy Vice-Chancellor of Research & Development, Dr Peter Clayton, describes her as an extremely productive research associate, publishing 39 journal papers and numerous conference papers in the period 2005 to 2010. He notes that she has graduated 17 MSc and 3 PhD students at Rhodes University, is currently supervising a further six MSc and PhD students and has attracted external funding to support her students and their considerable equipment needs.
Dr Clayton adds, "Professor McKinnell is an established national leader in South Africa in the field of Space Weather. She is a member of the Board of the South African National Space Agency (SANSA), and is a member (in some cases the Chair) of a number of international scientific working groups."
South Africa, along with other technologically advanced countries, has grown increasingly reliant on space-based services such as satellite earth observations, telecommunications, and navigational positioning and timing.
The importance of space science and technology in regard to increasing South Africa's economic prosperity has been recognised in the Department of Science and Technology's Ten-Year Innovation Plan and South Africa's National Space Strategy, both of which look to developing a strong technological base and building scientific and engineering capacity within South Africa's space industry.
SANSAwas developed to coordinate and manage space activities in South Africa and, in the process, create economic opportunities and human capacity building programmes.
In a statement released shortly after the announcement of her appointment, McKinnell said, "This is an exciting time for South African science, and in particular, for Space Science and Technology. The coordination of space-related activities under the SANSA banner will mean growth, and opportunity for South African players in the Space Landscape.
"It is indeed a privilege and an honour to be given the appointment of MD to SANSA Space Science, and I see this appointment as an exciting opportunity to contribute significantly to the growth of Space Science in South Africa as well as to lead a dynamic team into an exciting future in space," she said.
SANSA CEO Dr Sandile Malinga, who is a Rhodes University alumnus, said, "Dr Lee-Anne McKinnell was involved in the establishment of SANSA at the end of last year and has been instrumental in the migration of the previous Hermanus Magnetic Observatory into SANSA as the new SANSA Space Science directorate.
"She is a passionate and dedicated member of our team and we are very proud to place our Space Science facility in her capable hands. Further, we look to an even closer working relationship with Rhodes University as we reposition the research and human capital development initiatives of the SANSA Space Science directorate."
Story by Jeannie Mckeowin
Picture by Sophie Smith
Source:
Please help us to raise funds so that we can give all our students a chance to access online teaching and learning. Covid-19 has disrupted our students' education. Don't let the digital divide put their future at risk. Visit www.ru.ac.za/rucoronavirusgateway to donate