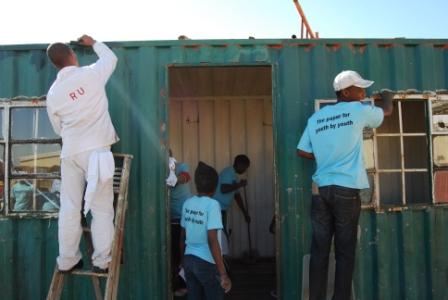 Upstarters, members of the local youth development project, spent 67 minutes painting and cleaning a kitchen at CM Vellem Primary School on Friday in honour of Mandela Day which is celebrated today.
Mandela Day encourages people the world over to spend 67 minutes of their time making a difference in their communities in honour of Mandela, who spent 67 years of his life working to build a better life for all.
Upstart Project Manager Shireen Badat said that it was important that Upstart takes part to show that it is committed to giving back to the community. This clean-up was made possible through collaboration with Rhodes Building Maintenance who made a generous contribution of all material as well as provided extra hands.
Building Maintenance Manager, Cromwell Dyala said that when he was approached by Mrs Badat he jumped at the opportunity to get involved and give back to the community, and make a difference. "We looked around the school and saw that the kitchen needed a lot of attention. It was not in the right condition to be serving food to school children," he said.
The group painted the exterior and interior of the kitchen as well as cleaned around it.
Ntsiki Mene, the school principal, expressed her sincere gratitude at the efforts made, "We're a school with a heart but a major lack of resources," she said. "I'm really pleased that they cleaned up our kitchen because it is something I didn't think I would be able to get to."
CM Vellem is a no fee school and depends on funds from the Education Department as well as contributions from the parents.
Upstarter Xolela Mike Landu said that although the 67 minutes were hard work, it was fun. "I'm happy to have been a part of this day and make a contribution towards celebrating this great man."
Lwando Manyonta said that it is very important to reach out to our communities and help those in need, "that's how we contribute to making this a better country for all."
To read more about Upstart and its initiatives click here.
Upstart is a project of Grocotts Mail, which is owned by Rhodes. The project was started with the help of journalism students and provides a lot of Rhodes departments with service learning opportunities - working with the School of Journalism, Psychology, Confucius Institute and Community Engagement.
Story by Nompumezo Makinana
Picture by Setumo-Thebe Photography
Source:
Please help us to raise funds so that we can give all our students a chance to access online teaching and learning. Covid-19 has disrupted our students' education. Don't let the digital divide put their future at risk. Visit www.ru.ac.za/rucoronavirusgateway to donate