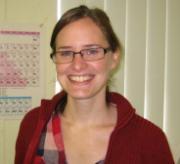 Megan Coates, who has one year remaining of her Chemistry PhD under the supervision of Prof Tebello Nyokong, won the best presentation award at the recent DST/Mintek Nanotechnology Innovation Centre (NIC) Workshop held recently at Mintek, Randburg.
Coates' research is on the development of electrochemical sensors using nanomaterial (carbon nanotubes) and electrocatalysts (metallophthalocyanines) for the improved detection of indicators of disease especially neurotransmitters often associated with neurodegeneration, or brain diseases.
As a student funded by NIC as well the Department of Science and Technology, Coates joined other NIC-funded students in presenting her work at a joint workshop this year.
Bubbly and passionate about her work, Coates said that it is very important for "research to be linked with people's lives" which is why she believes it is essential that scientists apply their knowledge to help others.
"NIC focuses on the use of nanomaterials to make products to use in society, such as checking if water is contaminated. It's all about applications taking research done at universities to apply to the real world," she said.
The theme of this year's workshop was "Unlocking the future with Nanotechnology."
Coates said that meetings such as the NIC workshop are invaluable in getting feedback from your peers as well as seeing what other universities are doing; ensuring work is of international standard.
"It also gives me practice at presenting what we have been doing in a way that others can understand," she explained. "It's definitely a skill you learn while you're doing it."
She is thrilled about receiving the award and complimented Prof Nyokong on how she "really cares about her students creating opportunities for us, from organising funding to collaborative research trips to conferences, both in South Africa and abroad".
Prof Nyokong said that Megan is always at the top of her class and a pleasure to work with. "Her research has resulted in her spending time in a laboratory in Paris, France and presenting her work at two international conferences one in France and the other in Japan," she said.
"She is no stranger for winning awards for her presentations; she won the best presentation as an honours student at the regional seminars including Universities of Fort Hare, Walter Sisulu, Nelson Mandela and Rhodes."
Coates said the five months she spent in Paris gave her the ideas that became the focus of her PhD with research techniques that have gained popularity abroad but are largely unexplored in South Africa.
She said she is happy to be working in South Africa and, since spending time in Europe, has "gotten over the glamorous idea of being overseas. It really opened my eyes and made me appreciate what I have here".
Dr Peter Clayton, Deputy Vice-Chancellor of Research at Rhodes, delivered a speech on the role of the NIC at Rhodes, a partnering of research in academia and development in the industry.
The Rhodes centre led by Prof Nyokong, houses advanced equipment required for the study of materials on a nano-scale, and is a national facility for students from other universities.
Photo and story by Anna-Karien Otto
Source:
Please help us to raise funds so that we can give all our students a chance to access online teaching and learning. Covid-19 has disrupted our students' education. Don't let the digital divide put their future at risk. Visit www.ru.ac.za/rucoronavirusgateway to donate