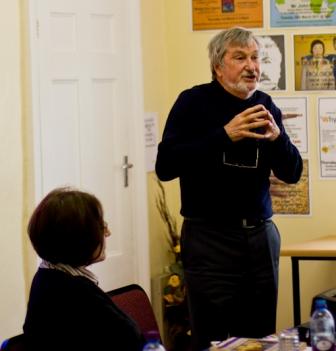 Engagement with social movements, which have their own agendas, culture and politics, require recognition and sensitivity of the different agendas, according to Eddie Webster, Emeritus Professor Society, Work and Development Institute (SWOP), Wits University.
Prof Webster, who was drawing on lessons learned during the last 28 years of Swop's engagements with the National Union of Mineworkers (NUM), was presenting a paper on "Swop and the national union of mineworkers: a case study in critical engagement" during the South African Humanities Deans' Association colloquium held at Rhodes University recently.
His paper reflected on critical engagement and the relationship of the intellectual to the social movement in considering the possibilities and pitfalls of a working relationship involving a university-based research entity and an influential trade union.
Providing an overview of Swop's history of engagements with social movements, Prof Webster highlighted four phases, including as critic of the apartheid system and workers conditions in the 1980s, as a partner of the new system in the 1990s involved in partnership with government, as analyst in the first decade of the 21st century and a combination of analyst and policy researcher in the second decade of the 21st century.
Prof Webster described his view of critical engagement as engaging with the social movements but retaining a commitment to "evidence, data, your own judgment and your own conscience". Referring to the refusal of the NUM to publish data relating to the potential spread of HIV/Aids in mine hostels in 1988, Prof Webster said he learnt the value of protecting academic freedom by not becoming too close to the union.
"We'd picked up that there was a disease that had been identified in central Africa and at the time there were 200 cases of HIV/Aids in South Africa. We felt that because they were mine workers and migrant workers that if a virus was picked up because of transactional sex that it could rapidly spread through the mine as a result of multiple partners and unprotected sex," he said.
He added that the research findings had been compiled in a report and handed to Mr Cyril Ramaphosa, "saying if this continues it's going to create a pandemic in the region. Mr Ramaphosa was outraged and said there's no way we can publish this. It's not appropriate for you to look into the lives of our mineworkers."
The final agreement was that the findings would not be published in South Africa, but Swop was allowed to publish them in overseas journals.
Debating whether he has reconciled the role of critic and reconstructor as an intellectual and academic, Prof Webster highlighted the complexity of the relationship between intellectuals and social movements, saying that "sometimes in the real world one has to compromise".
Prof Webster said it worked best where there is a partnership with clearly defined roles and recognition of different audiences and types of sociological interventions."
He highlighted the importance of a division of labour "between progressive intellectuals in the university and those within the democratic movement".
"It means you're engaging but you retain critical analysis and your own judgment. I've come to feel that the autonomy that we have is something quite vital and needs to be protected if you're going to engage with these movements," he said, adding that there are also enormous benefits to working with such organizations, including helping to strengthen their bargaining power.
NUM which was formed in 1982, was the largest recognised trade union representing workers in the Mining, Construction and Electrical Energy Industries in South Africa and the largest affiliate of COSATU.
By Sarah-Jane Bradfield
Picture by Adrian Frost
Source:
Please help us to raise funds so that we can give all our students a chance to access online teaching and learning. Covid-19 has disrupted our students' education. Don't let the digital divide put their future at risk. Visit www.ru.ac.za/rucoronavirusgateway to donate