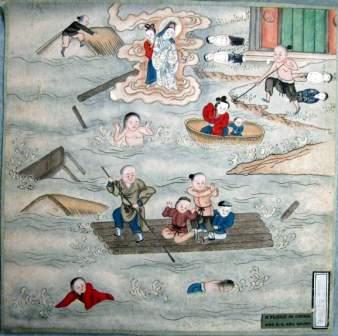 On Tuesday (27 September) the Vice-Chancellor, Dr Saleem Badat emphasised the importance of rigorous academic engagement with the human aspects of the growing links between China and Africa.
He spoke at the opening of the China in Africa/Africa in China Colloquium, and against the background of the state visit by the Deputy President of South Africa Kgalema Motlanthe, to the People's Republic of China.
The colloquium, which included two panels and a roundtable with local and international researchers focussing on migration of Chinese to Africa and the African presence in China, was organised by Dr Yoon Yun Park and Dr Tu Huyn, respectively research associate and post-doctoral fellow in the Sociology Department.
The colloquium is part of the annual China Week, coordinated and supported by the Confucius Institute at Rhodes University.
The CA-AC network of more than 100 researchers has a close association with Rhodes University.
Dr Park said, "There is a dominance of a Western anti-China bias, framing China as in competition with the US or UK in Africa, implying that Africa is something to be 'taken'. This diminishes Africa's position in a distinctly colonial way so it is important for us to know what our agenda is from both vantage points."
This was echoed by the Head of Sociology, Dr Kirk Helliker's closing remark: "There is a need for nuanced, rich descriptions of what's happening in Africa and in China in a bid to move away from reactionary viewpoints about both cultures."
China Week 2011 offers a host of important and exciting events. On Monday Dr Ron Sandrey examined the status of South Africa as a BRIC country; a series of documentary films on China runs from Tuesday to Thursday and there is an exhibition showcasing Chinese Studies at Rhodes in Eden Grove.
Rhodes is also hosting a delegation from our partner university, Jinan University in Guangzhou. Professor Rao, Vice President of JNU will meet VC Dr Saleem Badat. And Professor Zhang is participating in an Economics Roundtable on China's economic relations with Africa on Wednesday afternoon.
Dr Gordon Matthews, an anthropologist from the Chinese University of Hong Kong, presents a public lecture on his recently published ethnography on the (in)famous Chungking Mansions in Hong Kong on Wednesday evening.
Thursday sees the launch of Sai Weng Loses His Horse, edited by Grahamstown poet Robert Berold. This project challenged students to engage with an ancient Chinese tale and to write a new story in any of the languages taught at Rhodes. The winners of this competition will be announced at the event.
Thursday evening sees the performance of How the rain started again, a student production developed and directed by Michelle Ellis, a Chinese Studies 2 student. And on Friday afternoon Professor Ruth Simbao, Fine Art, chairs a set of talks on Contemporary Art in China and Cultural Exchange.
An exhibition on Chinese art and textiles, which is taking place at the Albany History Museum started on Monday 26 September and will run to mid-October.
A treasure of Chinese textiles in the Albany History Museum was recently re-discovered in a box, misleadingly labelled 'furnishings.' This coincided with the preparations for a small exhibition for China Week.
The purpose of the exhibition is to highlight Chinese art and explore public interest in the intricacies of the objects. This exhibition will intrigue and engage visitors in the variety and complexities of Chinese decorative arts, textiles and painting.
The Confucius Institute at Rhodes stimulates interest in and supports teaching and research about Chinese language and culture. The CIRU works, through its projects funded by the Hanban (the Chinese international council on Chinese – the equivalent of the Alliance française or the British Council), in collaboration with Rhodes academics and Departments, and with schools (DSG and Kingswood), and NGOs (UPSTART).
The annual China Week – it is happening for the third time – tries to showcase this collaboration the rest of Rhodes both in teaching and in research. Collaborators this year include Drama, Journalism & Media Studies, Sociology, Fine Art, Economics, and the School of Languages.
Full details about China Week 2011 can be found at http://www.ru.ac.za/confuciusinstitute/news/2011/chinaweek2011/
Source:
Please help us to raise funds so that we can give all our students a chance to access online teaching and learning. Covid-19 has disrupted our students' education. Don't let the digital divide put their future at risk. Visit www.ru.ac.za/rucoronavirusgateway to donate