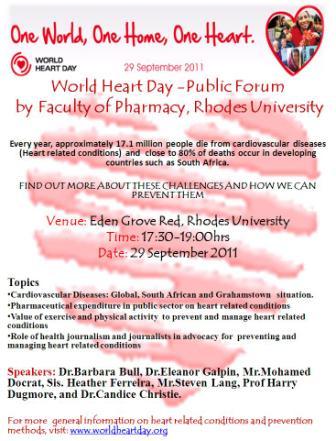 The Faculty of Pharmacy is recognising World Heart Day this year by hosting a public forum geared towards addressing the challenges of heart related conditions, and facilitating dialogue to enable community mobilisation in preventing and managing chronic conditions.
Cardiovascular disease (CVD) is the leading cause of death and disability in the world. Other non-communicable diseases (NCDs), include diabetes, cancer and chronic lung disorders, and the incidence of these is increasing in low and middle income countries.
In South Africa, NCDs are estimated to account for 29 percent of all deaths of which 11 percent may be attributable to heart related conditions. Coinciding with the internationally observed World Heart Day on Thursday 29 September, the Faculty of Pharmacy's initiative aims to flag the effects of heart related disease in society.
In a recent report titled the "Global atlas of cardiovascular disease prevention and control", the World Health Organisation states that although a large proportion of CVDs are preventable, and yet they continue to have devastating effects in society, mainly because preventive measures are inadequate.
According to discussion forum coordinator and lecturer in the Faculty of Pharmacy, Professor Sunitha Srinivas, "NCDs and premature deaths have enormous health and economic consequences on individuals, families, societies and countries. We need to start mobilising our communities to deal with these issues," she said. Tobacco smoking, physical inactivity, unhealthy diets and the harmful use of alcohol are the shared causative risk factors of heart disease, stroke, cancer, diabetes and respiratory disease.
Panellists include Professor Rod Walker, Dean of Pharmacy at Rhodes, Dr Barbara Bull, general practitioner, Dr Eleanor Galpin of Settlers Day Hospital, Mr Mohamed Docrat, district pharmacist, Mr Steven Lang, editor of Grocott's Mail, Sister Heather Ferreira, of Rhodes's health care centre, Professor Harry Dugmore Interim director of the Discover Centre for Health Journalism at Rhodes, Dr Candice Christie of Rhodes's Human Kinetics and Ergonomics department. Closing remarks will be delivered by Deputy Vice-chancellor Research and Development, Dr Peter Clayton. Topics on the agenda include an overview of CVDs including the global and South African context, the situation of CVDs in the Makana local services area, pharmaceutical expenditure and CVDs, role of journalists in addressing the challenges of CVDs and challenges in monitoring support staff with CVDs at Rhodes University.
The panel discussion will take place at Eden Grove Red on 29 September from 17.30 - 19.00hrs.
The WHO report Global atlas on cardiovascular disease prevention and control is available at http://whqlibdoc.who.int/publications/2011/9789241564373_eng.pdf.
Story by Sarah-Jane Bradfield
Source:
Please help us to raise funds so that we can give all our students a chance to access online teaching and learning. Covid-19 has disrupted our students' education. Don't let the digital divide put their future at risk. Visit www.ru.ac.za/rucoronavirusgateway to donate