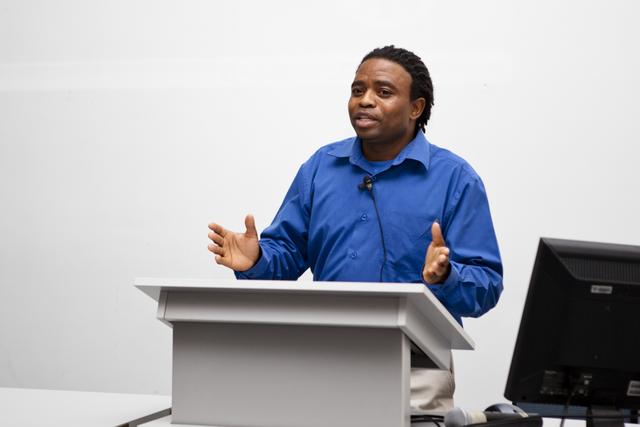 Mr Mandla Gagayi, head of sports at Rhodes and recipient of the 2010 Vice-Chancellor's distinguished community engagement award, delivered an inaugural lecture this week where he challenged community members to get involved in truly effective forms of community engagement.
Rhodes University Deputy Vice-Chancellor of Academic and Student Affairs, Dr Sizwe Mabizela opened proceedings, describing the event as an occasion that recognises the "excellence, innovation and dedication" of Rhodes staff in the area of community engagement. "Mandla's work has made an immense contribution in bridging the divide between Rhodes University and the greater Grahamstown/Rhini community," he said, adding that Mr Gagayi's "outstanding contribution to sports development in the Makana Municipality" was recognised at 2011 graduation ceremonies.
After recognising the need for formal sport in Grahamstown East schools, Mr Gagayi established an Under 19 soccer league in 2007, known as the Grahamstown High Schools Soccer League, which involves learners in weekly round robin soccer tournaments at various schools including Mary Waters High School, T.E.M Mrwetyana High School, Nombulelo High School, Khutliso Daniels Secondary School and Ntsika High School.
Following the success of the programme, the Department of Education, 18 local primary and high schools, Makana Municipality and the Department of Sport, Recreation and Arts and Culture joined forces to extend the services to benefit school learners. Due to popular demand Mr Gagayi, who arrived at Rhodes Sports Admin in 2002 from Nelson Mandela Metropolitan University (NMMU), has expanded the project to include Kenton, Port Alfred, Alexandria and Bathurst high schools.
Highlighting the common pitfall of many community members who presume that "what they have to offer is what the community wants and needs", Mr Gagayi advocated engaging with and asking local communities what their real needs are. "These days those of us with time, resources and influence have a tendency to think our power and resources give us the right to tell or predict what our communities really need without actually asking them – and when our imposed initiatives fail we then turn around and accuse these communities of apathy and a lack of interest in things aimed at bettering their lives."
Believing in the value of lived experience as an informant for effective solutions, Mr Gagayi said the success of the soccer league was due mainly to the fact that local youth had been mobilised before Mr Gagayi had become involved, by former Rhodes student and Grahamstown local Mr Jeff Budaza, and that Mr Gagayi simply fulfilled a position of leadership. "Ladies and gentlemen, community engagement is not a routine matter, and if caution is not exercised it can damage relations, both institutional and personal, beyond repairs," he said.
Recalling how he became involved in community engagement as a first year student at NMMU, Mr Gagayi said spoke about the weekly trips he and advocate for community engagement, Mr David Gola would make to Zwide to run coaching clinics in soccer, cricket, rugby and netball for primary schools. "For the first two months I was just doing it for fun and in most instances I saw it as a favour to Mr Gola. However, my take on things gradually changed as I got to know all the children and understand their backgrounds. I realized that they were no different from me," he said.
As a youngster growing up in Soweto, Mr Gagayi said he missed out on the opportunity of engaging seriously with sport as a result of a lack of facilities. Knowing how difficult it had been for him, "I took a vow to do all that I can to ensure that any child closer to me does not experience what I experienced as a child."
With a democracy that has "given birth to peoples of selfish aspirations", an education system that has deteriorated "to a point where children do not see any benefits that come with education" and a society "where people young and old, have unlimited rights and very limited responsibilities", Mr Gagayi challenged community members to consider what they would be remembered for if they were "to leave Grahamstown tonight for good". "If the answer is 'well I'm not sure' then it's time for you to get up and start doing something in your community," he said.
Mr Gagayi attended the University of Port Elizabeth (now Nelson Mandela Metropolitan University), where he completed a Bachelor of Arts in Politics and public administration, and Honours in Human Resources and Labour relations. He arrived at Rhodes in 2000 where he worked in Sports Administration until 2007. After a brief stint at the Department of Sports, Recreation, Arts and Culture (DSRAC) in 2008, Mr Gagayi returned to Rhodes as the assistant sports manager of Sports Administration. He was recently appointed head of sport at Rhodes.
Story by Sarah-Jane Bradfield
Picture by Sophie Smith

Source:
Please help us to raise funds so that we can give all our students a chance to access online teaching and learning. Covid-19 has disrupted our students' education. Don't let the digital divide put their future at risk. Visit www.ru.ac.za/rucoronavirusgateway to donate