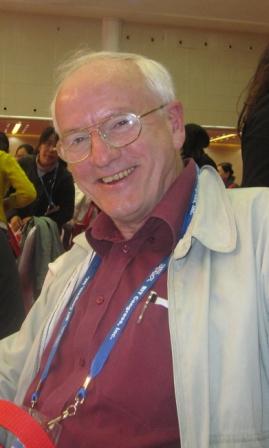 Professor Chris Whiteley of the Department of Biochemistry, Microbiology & Biotechnology leaves shortly for Athens, Greece where he will Chair an International Workshop at the 23rd Biennial Meeting of the International and the European Society for Neurochemistry.
The title of the workshop which is expected to bring together Neurochemists from around the globe is entitled: "Nanotechnology, nanomedicine and biomedical targets in Neurodegenerative disease"
He relates that at the previous meeting held in South Korea in 2009 he was presenting a lecture at one of the parallel sessions when he met Dr Syed Ali, a Senior Biomedical Research Scientist and Head, Neurochemistry Laboratory at the National Centre for Toxicological Research, Jefferson, Arkansas, USA.
It soon became obvious that both researchers were following similar research areas and an immediate collaboration between the two scientists and institutes was started. Syed Ali then suggested that, "we should put in a joint application to the Organising Committee at the next ISN/ESN meeting that was to be scheduled in Greece in 2011'. This was done with the topic mentioned above and in October 2010 I was informed of our success – with myself as Chair and Syed as Co-Chair.
"I was given a moderate budget and so the next task was to identify world authorities on nanomedicine and neurodegenerative diseases and to invite them to Greece for the meeting which starts on Sunday 28 August. We really wanted a 'global' influence at the workshop so we identified two speakers from Asia; two from Europe; two from USA and myself from South Africa."
By a matter of elimination and availability these lecturers were identified and invited: Professor (Mrs) Chunying Chen of the Nanotechnology Centre, Beijing; Professor Karine Andrieux, University Paris-South; Professor Martin Philbert, Dean and Professor of Toxicology, University of Michigan; Dr Syed Ali, Arkansas, USA and Prof Whiteley.
During a short trip to China in May of this year Prof Whiteley was a guest of Prof Chen and gave a talk at the Nanotechnology Centre, Beijing. He intends to visit France after the Workshop where he may visit the laboratory of Karine Andrieux.
Source:
Please help us to raise funds so that we can give all our students a chance to access online teaching and learning. Covid-19 has disrupted our students' education. Don't let the digital divide put their future at risk. Visit www.ru.ac.za/rucoronavirusgateway to donate