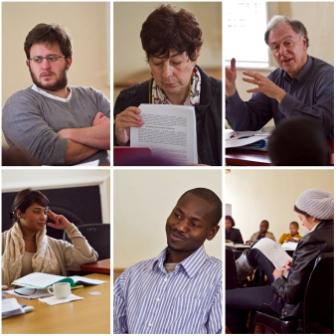 The Andrew W Mellon Foundation in conjunction with Rhodes University and the Thinking Africa project of the Department of Political and International Studies recently held two dissertation workshops for postgraduate students at Rhodes to bring together Rhodes postgraduate students from various humanities departments to discuss their research projects and help them produce stronger, more focused and more original theses.
The workshops are also intended to encourage dialogue across departments and combat the frequent sense of isolation of many postgraduate students as they embark on their individual research projects.
According to Dr Sally Matthews, senior lecturer in the Department of Political and International Studies at Rhodes, the workshops formed part of the broader Thinking Africa project of the Department. "One of our fellows suggested this idea and we decided to run with it as it fits well with our commitment to encouraging post-graduate research," she said.
Workshop coordinator David Szanton, President of the Ethnic Arts Foundation, Emeritus Executive Director of International and Area Studies at the University of California and former professional staff of the Social Science Research Council, said the workshops were also part of a larger institutional agenda.
"Rhodes University would like to expand, broaden, and deepen postgraduate studies, and it was thought that thematic or topical workshops along these lines might help achieve that goal. Thus these workshops, with their unusual pedagogy, were a kind of experiment to see if they really could improve and accelerate the completion of students' projects, as they have done elsewhere. So far, the evaluations at Rhodes seem quite positive," added Szanton.
Szanton described the workshops, noting they utilise an unusual pedagogy. Several weeks prior to the workshop the students submit their research proposals and write constructive comments on each others' proposals. At the workshop students do not present their own projects, but instead briefly present someone else's project.
This is followed by a 25-30 minute discussion of the strengths and weaknesses of that project by the rest of the students and several academic staff. During that period however, the author of the project is not allowed to speak. As Szanton explained: "Like a proverbial fly on the wall, the author can only listen carefully to the criticisms, advice, and suggestions from the rest of the participants, and concentrate on taking good notes on the discussion."
It is only on the second day of the workshop that students can talk about their own projects, and seek more suggestions and feedback on their work. Towards the end of the workshop generic issues – methodological, conceptual, ethical, political and practical are also identified and discussed. "It usually has a galvanizing effect on them, and it seemed to do so this time as well," said Szanton, who has run 61 of these workshops around South Africa and overseas.
Mike Mavura, a PhD scholar in the Department of Political and International Studies at Rhodes and a member of the organising committee for the workshop, attended the three day affair and described the initial process as both challenging and illuminating. "It really gave us a nice platform for sharing our ideas. Having someone else present your ideas to the group and not being able to defend them immediately showed up the gaps in your research. You get to see your work from a distance and it was amazing. It really helped with reworking and peeling off excess," he said.
Mavura said many of the students have made plans to meet up again in future to discuss their ideas. For more information contact m.mavura@ru.ac.za.
Story by Sarah-Jane Bradfield
Photo by Judith Doubell
Source:
Please help us to raise funds so that we can give all our students a chance to access online teaching and learning. Covid-19 has disrupted our students' education. Don't let the digital divide put their future at risk. Visit www.ru.ac.za/rucoronavirusgateway to donate