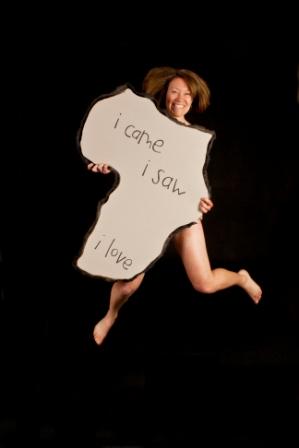 Women's Week, taking place at Rhodes from 8 to 12 August, celebrates the achievements and contributions of women, and acknowledges prejudices still faced by women today.
Women's Day (9 August) is celebrated in honour of 20 000 women who marched to the Union Buildings in Pretoria to protest pass laws, on this day in 1956.
The week's events include the My Body My Choice exhibition, an indoor picnic and unplugged music session, and The Vagina Monologues – all of which take place in the Nun's Chapel on St Peter's campus.
The My Body My Choice exhibition commences the week's events on Monday at 19:00, and is open to the public from 18:00 every day.
The exhibition's opening night features a cocktail party and live performance from dance company negative entertAinMent. The all-female company is run by Nadine Joseph, who assures that the performance will be accessible to audiences while "disrupting sensibilities and expectations".
According to Larissa Klazinga, student services officer and organiser of the Women's Week activities, the exhibition is "the other side of the coin of the [annual] silent protest".
Both artistic expression and political action motivate the exhibition, which aims to counter common rape myths and stereotypes of female nudity. "We recognise the body as a site of struggle, and the exhibition is one way for women to reclaim physical autonomy," says Klazinga.
Kayla Roux, a second-year BJourn student participating in My Body My Choice, feels that the exhibition is empowering and liberating: "It's a new way to look at your own body. My body is mine; I decide who gets to look, touch and admire…and who definitely does not."
Like the exhibition, The Vagina Monologues combines art and politics to deliver an honest and intimate forum for self-expression. Each year features both prescribed monologues, as well as those written personally by the non-professional performers.
Initially written and performed by American Eve Ensler in 1996, The Vagina Monologues has been performed as part of Women's Week at Rhodes for four years.
Inspired by Ensler's interviews with women from around the world, the episodic play addresses not only the taboo topic of female genitalia, but also women's genders, sexualities and lived experiences.
Proceeds from the Vagina Monologues on Thursday and Friday night will be donated to a local shelter.
Third-year BA student Amy Goodenough is one of the performers in this year's show, and has written her own monologue. "The Vagina Monologues is about all the stuff we don't talk about, but deal with every day," says Goodenough. "This creates taboo, and we tend to either deify or satanise our bodies. Neither of these is right in my opinion."
Story by Alexis de Coning
Source:
Please help us to raise funds so that we can give all our students a chance to access online teaching and learning. Covid-19 has disrupted our students' education. Don't let the digital divide put their future at risk. Visit www.ru.ac.za/rucoronavirusgateway to donate