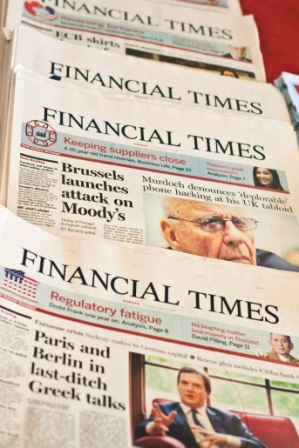 Chris Giles, economics editor of the Financial Times (FT), poured cold water on the idea that South Africa belongs in the BRIC club made up of Brazil, Russia, India and China – despite having accepted the opportunity to join this loose grouping.
He was speaking recently at a talk on the BRICS group, at The School of Journalism and Media Studies (JMS) as part of the Pearson sponsored Master Class for journalists.
Giles noted that South Africa did not fit into the BRIC club in terms of geographic land mass, population size or rate of economic growth. He also pointed out that so far, BRIC summits had not resulted in any substantial initiatives. Noting that the BRIC concept had been invented by Goldman Sachs chief economist Jim O'Neill, he cautioned journalists not to fall for the marketing hype around the BRICS group.
However, he expected coverage to increase. "Don't treat BRICS as an aligned group," he warned. "Look at the individual tensions and interests." He suggested that reporters treat BRICS like the G7 or G20 groups and give them more attention if they actually achieved something.
The Centre for Economics Journalism in Africa (CEJA), within JMS, hosted the Master Class, which brought together Giles, FT managing editor Lisa Macleod, long-time FT journalism coach Graham Watts, senior journalists from FT, Business Day editor Peter Bruce, economics lecturer Niki Cattaneo and various JMS alumni. They were joined by 14 senior to mid-level journalists from a range of print and broadcast media.
Source:
Please help us to raise funds so that we can give all our students a chance to access online teaching and learning. Covid-19 has disrupted our students' education. Don't let the digital divide put their future at risk. Visit www.ru.ac.za/rucoronavirusgateway to donate