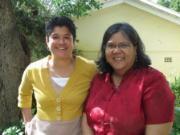 South Africa is undergoing rapid social and economic change which requires effective analysis and implementation of programmes where required.
According to Ms Mastoera Sadan, Director in the Presidency, it is important to ask whether the programs that Government has put into place are effective. "We need to ask ourselves whether it is a good policy and whether we are implementing it well," she said.
Ms Sadan who is also manager of a pioneering national research study on poverty dynamics was at Rhodes recently to present "The South African government's approach to poverty eradication".
Ms Sadan was invited as a joint initiative between the Centre for Social Development (CSD), the Institute of Social and Economic Research (ISER) and Community Engagement (CE) to inform and engage with the staff and fieldworkers of the CSD on poverty and educational transformation in the Eastern Cape and South Africa.
This forms part of the CSD's re-alignment to not only provide a direct educational service but also inform and influence the policy debate on early childhood education in the province.
In her presentation Ms Sadan outlined the various approaches and programmes adopted by Government to combat the effects of poverty around the country.
She said that since 1994 government has spent large amounts of the national budget on poverty reduction programmes, but has been criticised for a lack of a coherent anti-poverty strategy, although there are a number of programmes. Referring to the plethora of programmes, she highlighted social assistance grants, public works and income generating projects as examples.
Providing an overview of poverty in South Africa in the last 10 years, Ms Sadan described how poverty rates worsened between 1996 and 2001, despite expectations to the contrary.
"Not much was happening to the poverty rate even though we thought it must have been dropping," she said, adding that rates improved from 2000. Poverty lines are a statistical representation of the value of all the goods and services considered necessary for either an individual or household, such as food stuffs, dairy products and beverages.
Ms Sadan illustrated how poverty is measured in South Africa, highlighting that decisions on what constitutes poverty is based on values of what is considered appropriate for citizens to sustain a livelihood. Government's current system combines money-metric and income measures, the UNDP Human Development Index consisting of indicators based on life expectancy, educational attainment and GDP; indices of multiple deprivation and asset poverty.
She said that child poverty needs desperate attention, because of the disproportionate representation of children in poverty statistics. A 2010 survey reports that of the 54% of those who are affected by poverty in South Africa, 67% are children.
"This is also very important because poverty and vulnerability impair both the quality and length of children's lives and because childhood is a significant factor in the intergenerational transmission of poverty," she added. "As government we need to know how many people are poor and where they are."
Following Ms Sadan's presentation, members of the audience, many of whom work for the CSD, commented on their experiences of working in the field with people affected by poverty. One audience member commented that while government may be implementing programmes, there needs to be closer consultation with the affected communities to assess whether the programmes are in fact having their intended poverty alleviating outcomes.
The director of the CSD, Ms Vera Adams called for a more integrated approach to poverty reduction which could align the work of the NGO sector and government more effectively, leading to tangible development outcomes, and where the voices and experiences of citizens in impoverished communities could be more meaningfully incorporated into policies aimed at assisting them.
Photo: Ms Vera Adams and Ms Mastoera Sadan
Story and photo by Sarah-Jane Bradfield
Source:
Please help us to raise funds so that we can give all our students a chance to access online teaching and learning. Covid-19 has disrupted our students' education. Don't let the digital divide put their future at risk. Visit www.ru.ac.za/rucoronavirusgateway to donate