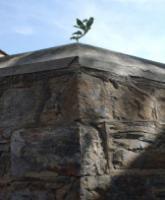 Focussing his lens on a small, disregarded world, Prof Dan Wylie launched his newest "whimsical project" at National English Literary Museum's (NELM) Eastern Start Gallery recently.
Introduced by Mr Thomas Jeffrrey of NELM, Persistence is a volume of poems and photographs depicting unsung heroes plants growing in unexpected nooks and crannies, and "celebrates an aspect that we often admire in other species".
Prof Wylie said the project grew out of playing with his new camera and "wandering around the streets, photographing little creatures I admire, which creep up among the cracks of our cement lives". The poems that accompany the photographs are of Eastern, haiku-like persuasion and use a few well-chosen words to explore the plants' view of the world. "When I took a closer look, I discovered complete universes, whole ecosystems, among the greenery," he explained.
He said that it was enjoyable to discover an amazing array of plants (including vilified weeds) battling the odds and growing all over campus and on and among the buildings of Grahamstown. "I counted fifteen species growing on the steps of the main Admin building," he said. "It's amazing how a bit of soil builds up in a corner and then in a few months there's a layer of rich humus. It excites me unbearably when I see that," he added.
It is clear that the discovery of the overlooked forms the backbone of this charming volume. Prof Wylie's poems reflect the philosophy the existence of plant life which naturally includes our own lives too. This is illustrated in the line: "No architecture carved from oak fails to crack/ the guttering has not been made that can channel this viridian fire."
"Many of the plants I photographed are now gone plucked out or poisoned," said Prof Wylie, making his record of them all the more poignant. He finds it comforting to think that plant life has flourished for so long on earth and will continue to do so, despite humans' often capacious impact on the environment. In mentioning how plant life has managed to flourish in Chernobyl in the Ukraine, 25 years after the nuclear disaster, he said, "I find it wonderful how plant life can rapidly demolish all signs of human endeavour – demolishing the back of my home, the back of Woolworths..."
In his careful use of the word 'miracle' in describing these hardy little plants, he feels amazement at how the natural world proliferates, despite the many odds stacked against it. "When we look up at the night sky at a beautiful, but basically hostile universe, we ask how did it happen? Persistence is a whimsical attempt to valorise our lives as well as those other little lives," he added.
Associate Professor of English at Rhodes University, Prof Wylie has won the Ingrid Jonker and Olive Schreiner prizes for the acclaimed poetry volume The Road Out (1996). A passionate environmentalist, he is the founder of the annual Literature and Ecology Colloquium, which has reached its eighth year in providing a platform for writers to share environmental ideas.
Persistence is printed by Dupli-print, and can be purchased directly from the author via email d.wylie@ru.ac.za. Prof Wylie will be producing another volume of poems in January entitled Sailor – poems for my father.
By Anna-Karien Otto
Photo by Prof Dan Wylie
Source:
Please help us to raise funds so that we can give all our students a chance to access online teaching and learning. Covid-19 has disrupted our students' education. Don't let the digital divide put their future at risk. Visit www.ru.ac.za/rucoronavirusgateway to donate