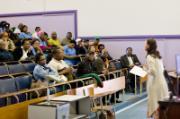 Newly appointed Institutional HIV/Aids officer, Mr Thandi Mzizi unveiled Rhodes University's newly compiled draft 2012 – 2014 strategic plan for HIV/Aids at the annual Rhodes Aids day on 2 December 2011.
In solidarity with the international community's "Getting to Zero" themed World Aids day on 1 December, Rhodes University hosted its own event in commemoration of the objectives of the Getting to Zero campaign, which include committing to achieving zero new HIV infections, zero discrimination and zero Aids-related deaths.
Mr Mzizi, who assumed the newly created post in September 2011, highlighted that taking current rates of infection and future predictions of HIV/Aids prevalence into account, HIV will have an increasing impact on Rhodes's core business, with one of the first impacts being increases in operational costs.
He further added that healthcare costs are also estimated to rise, alongside increases in recruiting and training costs as Rhodes University tries to replace lost personnel. Productivity is expected to decrease along with increases in absenteeism will increase, which are expected to have a significant impact on morale.
Following findings that the current Rhodes University HIV/Aids workplace policy is inadequate and ineffective, Mr Mzizi compiled the draft strategic plan which incorporates a three-pronged approach including strategies for the prevention of new infections, prevention of discrimination of those affected and treatment and care for all those affected by the disease.
Prevalence of HIV/Aids among Rhodes University staff and students is 1.5%, with students accounting for less than 1%. Rhodes University administration staff register 12.9% compared to the national average of 4.4%, and Rhodes University support staff prevalence is 12.9% compared to the 12.2% national average.
In achieving the objectives of the Getting to Zero theme, Mr Mzizi said it is imperative that Rhodes University coordinates strategic partnerships with various players including the Faculty of Pharmacy, the Psychology department, the Student HIV/Aids (SHARC), the Treatment Action Campaign (TAC) and Community Engagement.
Calling for a reinvigoration of the debate around HIV/Aids, Deputy Vice-Chancellor Dr Sizwe Mabizela reassured audience members of Rhodes University's commitment to eradicating HIV/Aids and its related effects, "We can ill afford to be complacent.
"So many of our people are living in silence in fear of disclosing their status. We hear the messages so often that we become numb and don't register them anymore," Dr Mabizela said, urging audience members to get tested, use condoms, be faithful to their partners and avoid compromising behaviour.
"Today shows the hopes, aspirations and belief that we can achieve the objectives of getting to zero. We must support and care for those who are affected and infected with this disease.
"Let us hold hands, move together in step and declare in one voice that we will be a voice of hope and comfort to those who have lost hope; we will be a voice of reason to those bent on stigmatising those infected with HIV/Aids, and we will spare no effort and we will not rest until IV/Aids has been eradicated on this earth," Dr Mabizela said.
Sister Heather Ferreira of the Rhodes University Healthcare Centre outlined the importance of maintaining a positive outlook and empowering oneself with the knowledge of how to manage the disease.
She outlined the various services the Rhodes University Healthcare Centre offers to staff affect ted by HIV/Aids, including counselling and testing, ARV supervision, screening tests for cancers, sexually transmitted diseases and TB, referrals and transfer cases, nutritional information and supplements, and treatment of opportunistic infections including TB, STDs and rashes.
"We'd like to encourage everyone at Rhodes to come to the healthcare centre to get tested. We will do everything in our power to help you. It's time everybody knows their status."
By Sarah-Jane Bradfield
Photo by Adrian Frost
Source:
Please help us to raise funds so that we can give all our students a chance to access online teaching and learning. Covid-19 has disrupted our students' education. Don't let the digital divide put their future at risk. Visit www.ru.ac.za/rucoronavirusgateway to donate