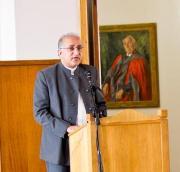 "It is a privilege to have a tapestry of such beauty, born of the expertise, skill and toil of the women of the Keiskamma Arts Project, adorn the Council chamber; and to have a brochure of the kind produced for this occasion," Dr Saleem Badat, Rhodes University Vice-Chancellor told the Rhodes community at an unveiling ceremony.
The public launch of the Rhodes University Tapestry took place on 1 December 2011 and was attended by Rhodes University Council, staff members, and many of those involved with the project, including the Keiskamma Arts Project members, a division of the Keiskamma Trust, who brought the tapestry to vibrant life with their weaving and beadwork skills.
The tapestry launch was accompanied by a detailed brochure developed by Professor of Art History & Visual Culture, Brenda Schmahmann and the Communications and Marketing Division.
Dr Badat said when universities allow their artwork and written words to lapse into self-deception, a deep disservice is done to the foundations of knowledge and truth which they are tasked with guarding.
The Rhodes University Tapestry therefore is, quite deliberately, at pains to express the University's origins, the road it has travelled and the forces which have shaped it over its 107 year history, showing both where it resisted oppression, but also the occasions where it was complicit, such as the awarding, in 1962, of an Honorary Doctorate to apartheid-era State President C.R. Swart, he said.
The trigger for the process of discussion and debate which resulted finally in the tapestry that now so resplendently adorns the Council Chamber walls, was the process of critical reflection on institutional culture undertaken in the Gender Action Forum (GenAct).
GenAct reasoned that the artworks then occupying the space, namely portraits of (all white, all male) previous University officials, stood in the way of the ethos of Rhodes as a home for all.
Chaired by Professor Schmamann, the Working Group for Council Chamber Portraits and Related Matters was formed in response and the idea of a tapestry was proposed, and later commissioned by this group.
The vote of thanks at the unveiling of the tapestry was given by Deputy Vice-Chancellor Dr Sizwe Mabizela. Among others, he thanked Dr Badat for his "steady, exemplary and inspirational leadership," Deans of Faculty, the Convenors of the 2009 Rhodes University Institutional Culture Colloquium, the University Senate and Council and the Communications and Marketing Division.
Sincere thanks and appreciation were extended to the Keiskamma Art Project and Professor Schmamann and the Portraits Working Group received a special commendation for their handling of the portraits, which now adorn the walls outside of the council Chamber, providing "a wonderful example of the dialectic of continuity and change of an institution in perpetual change, defining and redefining itself," Dr Mabizela said.
Prof Brenda Schmahmann's speech
By Jeannie McKeown
Photo by Adrian Frost
Source:
Please help us to raise funds so that we can give all our students a chance to access online teaching and learning. Covid-19 has disrupted our students' education. Don't let the digital divide put their future at risk. Visit www.ru.ac.za/rucoronavirusgateway to donate