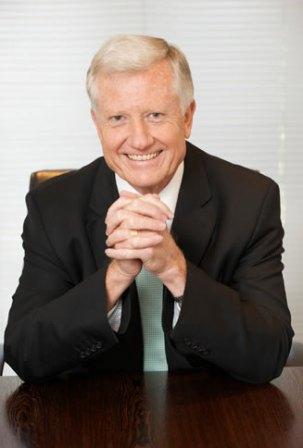 "Everything rises and falls on leadership –countries, businesses, communities and sports teams," says business icon Brand Pretorius.
And Mr Pretorius should know. He has held some of the foremost leadership positions in business. The dapper and engaging former Chief Executive of McCarthy Limited was speaking on "Inspirational Leadership" at a packed venue at Rhodes University. The Rhodes Business School hosted the event.
A person's "ultimate success", says Mr Pretorius, is determined, not just by education or knowledge, but by the ability to lead.
"Leadership is like the electricity powering countries, businesses, sports teams and even families."
He said that over 15 million books had been written about management and leadership. "I have been in the business for 38 years and I am still a student of leadership."
He said leadership was about getting everyone on the team to commit to the same vision and objectives and to "fly in formation".
Most employees in businesses were "disengaged". "They do just enough to stay out of trouble. There is reluctant compliance and no real enjoyment of their jobs."
He said there was a difference between management and leadership and a balance had to be struck between the two. Management is about process, activities, speed, efficiency, planning and control.
"But people need to be inspired too. Leadership is to have the courage to go first, to give direction, to inspire. Management is just one component of leadership."
He said he did not embrace the "autocratic" style of leadership where people did their job or faced being fired.
The idea of "visionary transformational leadership" was a better model in terms of which a leader gave people a dream or vision to inspire, unify and engage them and – once the dream was attained – they received the benefits. This ensured a high level of commitment.
"But if you want to earn the maximum commitment it should be through servant leadership," said Mr Pretorius.
"People who are respected, nurtured and cared for are far more committed than those that are instructed, intimidated and belittled. Influence comes from your strength of spirit, your humanity. You can capture the hearts and minds of people through servant leadership."
But he said good leadership also required the ability to "lead ourselves", to instil a sense of common purpose and to lead with integrity and humility.
An effective team shared core values – such as openness, trust, respect for human dignity and ethical business dealings. Leaders also had to be able to be visible and accessible and communicate effectively.
"Leadership is about translating the vision into a reality, living the values and delivering the numbers and – believe me – if you don't deliver in business you will not survive. You need a hard head when it comes to results and gentle heart when it comes to people."
He said if there were more inspired and motivated people in South Africa, it would "change the face of this country".
Former President Nelson Mandela, political and spiritual leader Mahatma Ghandi and beloved humanitarian Mother Teresa, were all good examples of true leaders said Mr Pretorius.
Rhodes Business School director, Professor Owen Skae, said that Mr Pretorius was widely recognised as one of the most ethical CEO's South Africa had ever seen.
He said the Rhodes Business School had articulated its mission around "responsible leadership, engaged business and integrated society".
"Brand Pretorius epitomises the vision behind how we would like to see business being defined."
Picture source Brand Pretorius website
Source:
Please help us to raise funds so that we can give all our students a chance to access online teaching and learning. Covid-19 has disrupted our students' education. Don't let the digital divide put their future at risk. Visit www.ru.ac.za/rucoronavirusgateway to donate