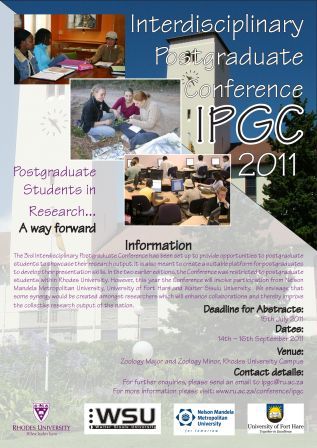 The third Interdisciplinary Postgraduate Conference (IPGC) opens its doors to other Eastern Cape Universities in 2011. The theme of this year's Conference is Postgraduate Students in Research… A Way Forward.
Speakers from both NMMU and Fort Hare will be presenting short talks on their research. Speakers will each have fifteen minutes with which to introduce their area of expertise and take any questions which may arise from the floor.
Chair of the post-graduate planning committee for the conference is Temitope Olomola, a PhD student in the Department of Chemistry. He said the aim of the conference is to strengthen the communication skills of post-graduate students, particularly now as Rhodes University is moving towards becoming more research and post-graduate oriented.
The conference will present a platform for useful dialogue and cohesion among the next generation of researchers, and each student delegate will have the opportunity to communicate their work, at whatever stage it is, to a broad range of postgraduate researchers. Holding a conference at the University which follows international protocols will also, he hopes, enrich the post-graduate experience for students who are perhaps not able to attend conferences overseas during their studies.
While this is the third IPGC, it is the first to be arranged and organised by a committee specifically mandated by the Post-Graduate Liaison Sub-Committee.
The planning process has in itself been a valuable experience for the planning committee, enabling post-grads to gain skills which will stand them in good stead at further conferences, and Olomola is hoping that next year a new component, that of workshops, can be incorporated into the programme, on topics such as writing and presenting skills, and post-university careers.
Sessions will be held at Zoo Major on the corner of Prince Alfred and Artillery Roads on the Rhodes University campus, and members of the university and community are welcome to attend. The conference runs until lunchtime on Friday 16 September 2011.
For more information visit: http://www.ru.ac.za/conference/ipgc
By Jeannie Mckeown
Source:
Please help us to raise funds so that we can give all our students a chance to access online teaching and learning. Covid-19 has disrupted our students' education. Don't let the digital divide put their future at risk. Visit www.ru.ac.za/rucoronavirusgateway to donate