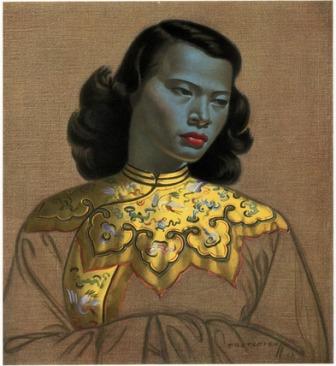 Rhodes University Department of Fine Art Fine MFA (Curatorial Practice) student, Andrew Lamprecht, took the bold step of arranging the first ever retrospective exhibition of the populist artist Vladimir Tretchikoff at the Iziko South African National Gallery.
Art is about pushing the boundaries; the public expects that artists will put themselves out there, incurring wrath and admiration in equal quantities. Curators, on the other hand, are not generally viewed as trailblazers, although this is perhaps an outdated view given the calculated risk taken by Lamprecht.
The Curatorial Practice MFA was introduced only a few years ago, and Lamprecht is one of the first to register for the degree and the first to submit. A course requirement is the mounting of a professional exhibition at a reputable art museum.
Tretchikoff's story spans some sixty years, and is a tale worthy of a soap opera, with both love and hate in ample supply.
In an interview with Art Times, Lamprecht acknowledges the dichotomy of Tretchikoff's life, the fact that he was scorned by the art establishment and denied the opportunity to exhibit in traditional gallery spaces. Undaunted, he displayed his work in venues such as department stores, gaining a huge following both here and abroad.
The first artist to truly see the potential in reproducing his work in printed form, Tretchikoff's Chinese Girl and Fighting Zebras could be found in countless homes.
Working both with Tretchikoff's granddaughter Natasha Swift and Riason Naidoo, Art Collections Director at the Iziko Gallery, Lamprecht has therefore managed a feat not achieved by the artist during his lifetime. Lamprecht researched and sourced 92 original paintings by the Russian-born Tretchikoff, tracking them down across four continents, and the buzz created by the exhibition has been such that the Gallery was full for the opening before invites were sent out.
Lamprecht is a lecturer at the Michaelis School of Art at UCT, and a respected writer and academic. His aim, explains Professor Dominic Thorburn, is to revisit and re-present Tretchikoff's work, and, by doing so, allow the public the liberty to make up their own minds as to whether what he produced can legitimately be called fine art.
Professor Thorburn and Senior Lecturer Ashraf Jamal, who is co-supervising Lamprecht's MFA, agree that his undertaking of this retrospective can be seen as a courageous, indeed risky, career move, given the ongoing fierce debate over this issue of legitimacy.
In an article by Justine Gerardy, Lamprecht says of Tretchikoff that "he was shamelessly commercial," with a grasp of pop culture, the media and public relations that was years ahead of his time.
Riason Naidoo adds "I have no doubt that some people will be quite critical. I think a lot of people believe that he doesn't have a place in an institution like this. But for me it's about opening it up and finally addressing Tretchikoff."
The exhibition has generated much debate. There are criticisms of the exhibition and also disagreements with, for example, Naidoo's comment that the show is 'about opening up' SANG and 'finally addressing Tretchikoff'.
For more comments click here
Story by Jeannie Mckeowin
Source:
Please help us to raise funds so that we can give all our students a chance to access online teaching and learning. Covid-19 has disrupted our students' education. Don't let the digital divide put their future at risk. Visit www.ru.ac.za/rucoronavirusgateway to donate