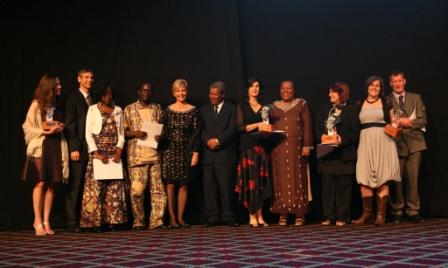 For the third consecutive year, alumni of the Rhodes University School of Journalism and Media Studies (JMS) have emerged victorious in the student category at the Siemens Profile Awards.
Nontobeko Sibisi and Kyla Herrmannsen won the category, for their documentary entitled 'The FIFA 2010 Stadium in PE - Who really wins?', which looked at stadia built for the FIFA 2010 Soccer World Cup and whether this would benefit the average South African. They also questioned if money used to build the stadia should have been better spent on rolling-out service delivery that ordinary South Africans are in desperate need of.
Laura Wener and Paul Harris received a merit award in the same category for their piece 'The Real Paper Chase', which investigated the impact that Rhodes University's paper consumption and wastage has on the environment – giving suggestions on greener alternatives.
South Africa's minister of Science and Technology, Naledi Pandor, was the patron of this year's awards. She said, "Science and technology are not traditionally popular subjects, despite the extensive use we make of them in day to day life – indeed, people do not appreciate the degree to which these subjects should be highlighted.
"This is why awards such as the Profile Awards are so important – in Africa, politics and economics are featured most predominantly in the media. We have to cajole and encourage editors to feature stories around science and technology. This is one of the challenges we are facing and why it is vital to support journalists in this field.
"Moreover, one should not assume that it is easy to report on these subjects – a depth of technical knowledge is required. I would like to build a larger cohort of science informed journalists throughout South Africa."
JMS television lecturer Alette Schoon (executive producer for both pieces) received the awards on their behalf at the ceremony held in Doha, Qatar on 28 June 2011. She said, "I would like to proudly congratulate our student winners for being such bright stars so early in their careers.
"I agree with the judges who said what made the two stories stand out was the humour and simple language, and that they made the science real for the audience by relating it to important social issues."
*The Siemens Africa Profile Awards are now in their 10th year and are the only pan-African awards that exclusively promote science and technology journalism. The awards aim to advance quality science and technology reporting.
Picture: Minister of Science and Technology, Naledi Pandor with the winners. Alette Schoon is third from right.
Source:
Please help us to raise funds so that we can give all our students a chance to access online teaching and learning. Covid-19 has disrupted our students' education. Don't let the digital divide put their future at risk. Visit www.ru.ac.za/rucoronavirusgateway to donate