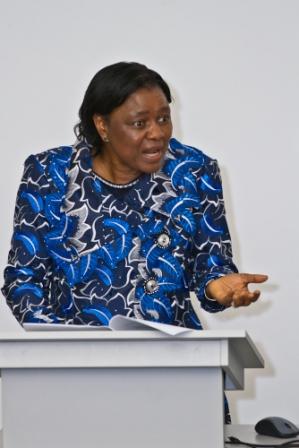 The Deputy Minister of Higher Education and Training, Professor Hlengiwe Buhle Mkhize, was awarded the Rhodes University Psychology Department's Social Change Award on Tuesday night (20 September).
A delighted Prof Mkhize said she was "deeply honoured" to receive the award from a prestigious institution like Rhodes.
Head of the Psychology Department Professor Michael Guilfoyle said the Social Change Award had been initiated in 2008 to honour "prominent members" of the Psychology community in South Africa for their contribution to social change in the country.
He described Prof Mkhize as "incredibly productive in her career". She had been a clinical psychologist who had lectured at the Universities of Zululand and the Witwatersrand. She was a visiting professor at the universities of Illinois and Mississippi in the United States and had also been a commissioner in South Africa's Truth and Reconciliation Commission.
During the last years of apartheid there had been an increasing recognition among psychologists that the "dominant western models about thinking about people and mental health" were problematic and tended to "neglect social, cultural, political and historical dimensions of human existence". Prof Guilfoyle said Mkhize had been in the forefront of writing about these issues at a crucial time.
On receiving the award Prof Mkhize said she believed the tools of analysis deployed by social psychologists in their studies of group conflict could assist South Africa to manage its apartheid related legacy and challenges.
"The scars of apartheid in South Africa are very deep and they affect all races and classes in our society. We come from a past where violence was state-sanctioned and the social system was based on authoritarianism and the silencing of the majority."
She said social psychologists should explore how South Africans could "nurture and develop" a progressive democratic value system.
"As a post-conflict society, South Africa faces challenges of social cohesion and social inclusion. Whilst we rightly claim that we are 'Proudly South African', we generally practice discrimination against foreigners, gays and lesbians. Our society still needs to learn the rules of public discourse, to disagree without hurling insults; to accept that there are differences in society but that those differences should not hinder us in executing the primary task of building a new peaceful and democratic South Africa that embraces unity in diversity."
She said people in South Africa and other post-conflict countries on the continent needed to "reclaim" their values as human beings.
"Our citizens should therefore be educated, proactive, critical and active citizens, capable of processing information at a higher level and contribute to the building of bridges between previously divided communities."
Citizens should take responsibility for their own actions and strive to develop a South African identity "based on peaceful co-existence, non-racialism and non-sexism". She said there was potential for the social psychology discipline to contribute to what she termed the "scholarship of national reconciliation".
"Social Psychology should help us to understand, explain and intervene in various social phenomena and challenges such as violence, crime, gender based violence, class and racial discrimination and prejudice against foreign nationals within our boundaries."
Rhodes Vice-Chancellor Dr Saleem Badat, who presented the award to Prof Mkhize, said she was "fabulously deserving" of the award, not just for her contribution to the discipline of psychology but also for the role she played as a scholar and "public intellectual" in society.
"Independence of scholarship and thought runs through her veins," he said.
Previous award recipients include Prof Chabani Manganyi, Dr Yogan Pillay and Prof Pumla Gobodo-Madikizela.
Picture: Deputy Minister of Higher Education and Training, Professor Hlengiwe Buhle Mkhize
Picture by Judith Doubell
Source:
Please help us to raise funds so that we can give all our students a chance to access online teaching and learning. Covid-19 has disrupted our students' education. Don't let the digital divide put their future at risk. Visit www.ru.ac.za/rucoronavirusgateway to donate