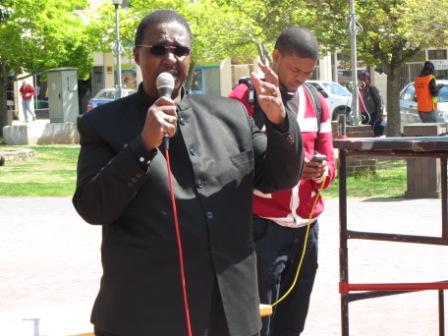 The Right2Know Campaign (R2K), a nation-wide coalition of people and organisations opposed to the Protection of Information Bill – also known as the Secrecy Bill – was launched in Grahamstown recently, with a list of keynote speakers, including veteran struggle activist and Grahamstown College of Divinity Rector, Dr Barney Pityana addressing the local community.
Marking the launch, members of the organisation and various grassroots organisations including the Unemployed People's Movement (UPM), Students for Social Justice and the Rural People's Movement met at Raglan Road and marched to the Cathedral in Church Square, before a list of speakers, including Dr Pityana and members of various civil society organisations and academics, addressed the crowd.
In his plea to "stop the rot" in South African politics, Dr Pityana, head of College of the Transfiguration and former Vice-Chancellor at the University of South Africa (UNISA), encouraged South Africans to think critically about the implications of the Bill, if it is passed. Citing the effects the Bill could have on democracy in the region with reference to a loss of control of the courts and appointment of judges, Dr Pityana said, "It's not very long ago that we were proud as South Africans…We were ruled by law and that made us very special people in South Africa…Before very soon we wont know who to trust until we stand up."
Referring to the recent uprisings in the Middle East, Dr Pityana said, "We don't want to wait for 40 years as they did in Libya before we stop it… We must stop the wealth of the nation disappearing into the deep pockets of politicians."
Rhodes University Professor in philosophy Pedro Tabensky, also of the Democratic Left Front, called for a deeper reflection on why the ANC is pursuing the Bill with such force. He said the only reason he could think of was that the ruling party want to protect themselves from the "enormous pile of evidence in support of the view that we are being ruled by a predatory state". He added that poverty is made to work for the ruling party to perpetuate its hold on power, and that it encourages silence at grassroots level.
Mr Richards Pithouse, lecturer in Politics at Rhodes, spoke about how the Bill could enable corruption and called for increased government accountability. "Democracy is not about voting every five years", he said, rather it is about the daily practices and lived experience of citizens, many of whom are experiencing human rights violations in Grahamstown. "It's not that we (the government) don't have the money for people to live with dignity; the question is who has that money… The system of poverty is being deracialised, it is not being undone," he said.
UPM leader Mr Ayanda Kota and other community groups' joint statement said they support the campaign's fight against the Bill.
Story and photo by Sarah-Jane Bradfield
Picture: Dr Barney Pityana.
Source:
Please help us to raise funds so that we can give all our students a chance to access online teaching and learning. Covid-19 has disrupted our students' education. Don't let the digital divide put their future at risk. Visit www.ru.ac.za/rucoronavirusgateway to donate