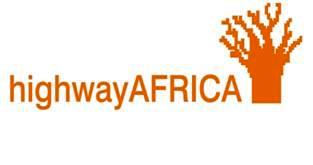 Celebrating a valuable contribution to African journalism, Rhodes University will officially open the new Telkom-Highway Africa Building at a ceremony at the campus on Friday 29 July.
Guests of honour at the commemorative occasion include Telkom Group Executive: Group Communication and Brand, Ms Brenda Kali, and Rhodes University Vice-Chancellor, Dr Saleem Badat.
The Telkom-Highway Africa Building is part of Telkom's contribution to the success of the annual Highway Africa conference. The conference celebrates its 15th anniversary this year, and will continue its focus on the impact of the Internet on journalism and media across Africa.
Started in 1997, the programme has since grown into a multi-faceted project with research, training and news activities added on.
"Telkom is the founding partner of Highway Africa and it is especially significant that the company that first saw the potential of what would become Africa's largest annual gathering of journalists should also be the first to recognise that the project had grown and needed a permanent home," said Chris Kabwato, the Highway Africa director.
Ms Kali said that Telkom's sponsorship of Highway Africa was testament to the belief that journalism and media need to be strengthened in order to create stable and prosperous societies.
"It is therefore an honour to contribute to the School of Journalism and Media Studies' ongoing pursuit of excellence," she said.
Highway Africa is a flagship programme of Rhodes University. For 15 years the programme has hosted Africa's largest annual gathering of journalists and is focused on the interface of journalism, media and digital technologies (internet and mobile).
Media Inquiries: Chris Kabwato, Mobile: +27 82 582 9534, e-mail:c.kabwato@ru.ac.za
Source:
Please help us to raise funds so that we can give all our students a chance to access online teaching and learning. Covid-19 has disrupted our students' education. Don't let the digital divide put their future at risk. Visit www.ru.ac.za/rucoronavirusgateway to donate