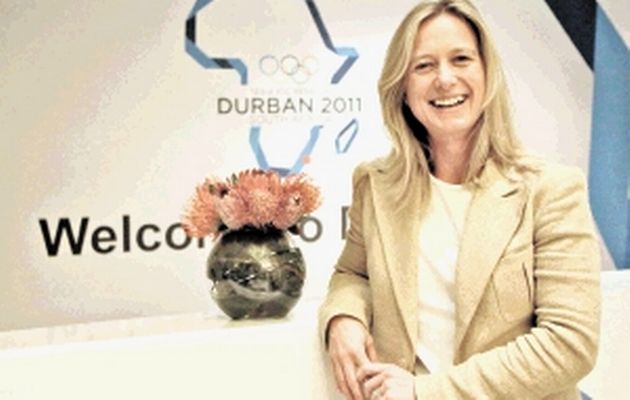 The cinematic vision of a South African filmmaker helped a South Korean city scoop the hosting rights to the 2018 Winter Olympics.
Caroline Rowland, a Welkom-born producer, made the documentary showcasing Pyeongchang that got it the nod ahead of Annecy in France and Munich in Germany. Rowland, 43, works out of the UK and was in Durban this week for the International Olympic Committee's announcement. And it's not her first success on the big stage. Her productions have helped three other cities win hosting rights to major events.
New Moon, her production company, was instrumental in London winning next year's Olympic Games, and she also produced the films for Russian city Sochi's bid to host the 2014 Winter Olympics and Qatar's 2022 Fifa World Cup campaign. "I think Pyeongchang had the most amazing story, which they told very well. The presentation team were sensational. I'm delighted that the films we made were well received. It's such a privilege to be part of a bid that wins in such a convincing way," said Rowland.
Now Rowland, who lives in Barnes, west London, is hoping South Africa will pick her to make the bid film to host the 2022 Commonwealth Games. "I think it's a very exciting time for South Africa, which has, for a long time, been talking about an Olympic bid or a Commonwealth Games bid." A Rhodes University journalism graduate, Rowland has redefined the role of film in campaigning to host major sporting events. She said her defining moment came after producing two films, Sport at Heart and Inspiration, which underpinned the London bid. They have won 21 awards between them.
"What London had was an incredible story. It was essentially that London is a city that can inspire young people around the world to take up Olympic sport." Inspiration, a short film showing children from four continents being inspired by the games to become athletes, was shot in South Africa and featured local actor Siphiwe Mbatha, 17, from Soweto.
A former competitive swimmer, horsewoman and skier, Rowland was last year featured in the Who's Who of Britain's Young Entrepreneurs. She was recently described by Bafta's Academy Magazine as a "hot young talent" in the British Film Industry.
Source: Sunday Times, 11 July 2011
Written by Bongani Mthethwa
Picture: Tebogo Letsie
Source:
Please help us to raise funds so that we can give all our students a chance to access online teaching and learning. Covid-19 has disrupted our students' education. Don't let the digital divide put their future at risk. Visit www.ru.ac.za/rucoronavirusgateway to donate