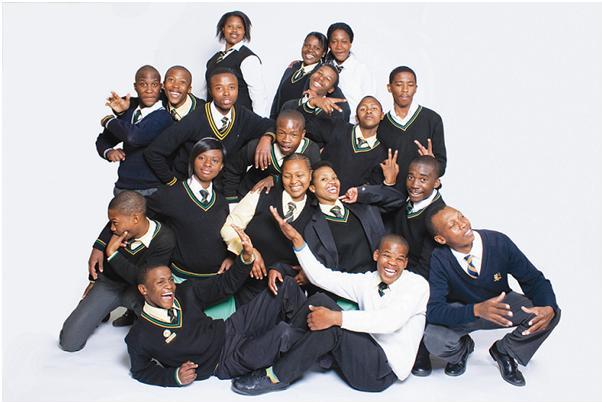 I write who I am, an anthology of poetry by 19 Grahamstown youths involved in the Upstart Youth Development Project, was launched at Wordfest this week.
The title of the book is derived from the title of Black Consciousness leader Stephen Bantu Biko's seminal book I write what I like.
The anthology gives voice to the lived experiences of these youths as they try to form positive and affirming identities while navigating their way through their complex social conditions.
In a time of deeply entrenched social and economic inequality, a dysfunctional education system and a high rate of violent crime, these youths give commentary on the very real circumstances under which they live while expressing their hopes and dreams for a better future.
The young poets featured in the book have practiced the art of poetry and developed a love for the written word under the guidance of acclaimed poet Harry Owen who has been a friend and mentor to the group.
Owen expressed his immense pleasure in working with the group, saying that through their friendship, commitment and dedication to the project they taught him at least as much as he may have managed to teach them. Without his unstinting dedication, this book would not have been possible. Owen was touched by these words but said that he didn't deserve the credit. As Sanele Ntshingana put it, the book was "all about us, he (Owen) just facilitated".
Writer and Deputy Director of Books and Publishing Siphiwo Mahala said that an initiative like Upstart might seem small in the beginning but it is where the seed is planted. He said that the title of the book was befitting because essentially that is what writing is all about: having a story that only you can tell. He then congratulated Upstarters on their great achievement.
Sibusiso Klaas, Upstart poet was excited because it was the very first time that her work was published in a book. "I didn't really believe that the book existed until I held it in my hands," she said. She thought the launch was a success and thoroughly enjoyed the fact that everyone was congratulating her on her contribution to the book including her teachers.
Signing autographs seemed to be the best part of the day for the young poets. It was Nokuthula Yona's first book launch, "I've only ever seen them on television." Yona said that she enjoyed performing in front of a live audience.
Klaas said that she was inspired by Mahala's words about keeping busy with activities that contribute to her self-development. She would like to see herself succeeding in the future just as Mahala did.
Upstart is a youth development project aimed at young people in Grahamstown and managed by Mrs Shireen Badat. The aim of the project is to foster a culture of reading and writing among Grahamstown youth.
To order the book, email upstart@grocotts.co.za or call 046 622 7222. All proceedings will go towards covering publishing expenses.
Upstart is a project of Grocotts Mail, which is owned by Rhodes. The project was started with the help of journalism students and provides a lot of Rhodes departments with service learning opportunities - working with the School of Journalism, Psychology, Confucius Institute and Community Engagement.
Story by Nompumezo Makinana
Source:
Please help us to raise funds so that we can give all our students a chance to access online teaching and learning. Covid-19 has disrupted our students' education. Don't let the digital divide put their future at risk. Visit www.ru.ac.za/rucoronavirusgateway to donate