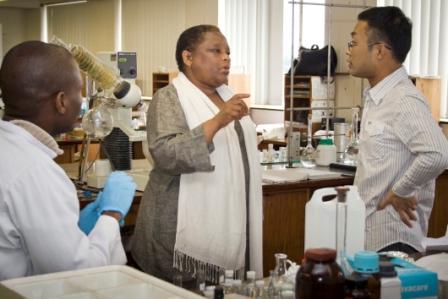 Highly acclaimed Rhodes academic, Professor Tebello Nyokong, has been selected for the 2011 Distinguished Women in Chemistry award by the Royal Society of Chemistry - Europe's largest organisation for advancing the chemical sciences - and the Pan Africa Chemistry Network.
The award forms part of the PACN/RSC's International Year of Chemistry celebrations. According to the RSC, this year also marks the centenary anniversary of Marie Curie being awarded her Nobel Prize for chemistry and a central theme of the year has been to celebrate women's contribution to science.
Prof Nyokong is the director of the Nanotechnology Innovation Centre at Rhodes University and has received international recognition for her work in the field of chemistry and nanotechnology.
In 2009 she became the first South African scientist in the physical sciences and one of only five women in the world to win the prestigious L'Oréal-UNESCO award for women in science.
But while thrilled by the latest award from the PACN/RSC, Prof Nyokong insists that none of the awards she has received to date are for her alone. She says they must also be seen as recognition of the work of her students and staff – which she refers to as "my group".
"They must also feel glorified and acknowledged by these awards. It's not me alone." She says that recognition of the African continent is also important.
"These are international awards and being able to show that, in Africa, good chemistry of international standing can also be done is very important. People tend to see Africa just in terms of violence." She says she is also delighted that the award would be made in Africa.
Prof Nyokong will be honoured at a special ceremony during the PACN's first Congress on Agricultural Productivity in Accra, Ghana, in November. She has also been invited to speak at the conference.
She said women were in short supply in the physical sciences worldwide and awards such as this one would encourage more women to move into these fields.
Prof Nyokong is globally respected for her pioneering work in medicinal chemistry and nanotechnology and is known to be extremely hard working.
But she dismisses this – saying she ascended the ladder in a male dominated world by working "smart not hard" as well as to the fact that she loves the work she does. "Don't waste your time. Get things done and move on," she advises.
Prof Nyokong has a passion for her students and says training them gives her the most joy. "My main concern is that we (Africans) don't become consumers of technology or developments of other countries. We must also be generators and developers of knowledge and that can only happen with the younger people."
She said international guests were often shocked at the advancements being made at Rhodes. Many come "from far and wide" to use the unique facilities at the university – including the R7m X-ray Photoelectron Spectroscopy (XPS) instrument, which she raised funding for. "It's a paradigm shift for them to come to Africa to use our facilities and technology."
Prof Nyokong has won numerous awards, including the science and technology category winner of the Shoprite Checkers/SABC 2 Women of the Year Award.
In 2005 she was bestowed with the Presidential Order of Mapungubwe bronze award by then President Thabo Mbeki and in 2007 the Department of Science and Technology and the National Research Foundation (NRF) awarded her the Research chair for Medicinal Chemistry and Nanotechnology.
More recently, Celebrating Excellence Organisation (CEP) magazine selected her as the most influential woman in education and training.
Picture by Sophie Smith
Source:
Please help us to raise funds so that we can give all our students a chance to access online teaching and learning. Covid-19 has disrupted our students' education. Don't let the digital divide put their future at risk. Visit www.ru.ac.za/rucoronavirusgateway to donate