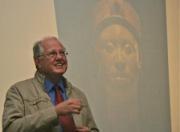 Director of the Institute for the Study of English in Africa, Professor Lawrence Wright was honoured for his lifelong contribution to English by The English Academy of South Africa. He was presented with a Gold Medal – the Academy's highest form of recognition.
Prof Wright has been a scholar, researcher and teacher at Rhodes University for over 25 years; he is President of the Shakespeare Society of Southern Africa and Vice-President of the English Academy. Marking the occasion, Prof Wright delivered the Academy's Golden Jubilee Lecture, in which he paid homage to one of South Africa's foremost English academics and Professor Guy Butler.
"He had so many complications, it's difficult to know where to start," said Prof Wright, cataloguing an exhaustive list of Butler's achievements and involvements with language, literature and community. Though Butler was a well respected poet, Prof Wright took a decided focus on his two main preoccupations: the intellectual life and social change.
Describing Butler's approach to academia as Aristotelian (in contrast with a Platonic approach), Prof Wright said, "Butler was more concerned with the here and now - practical and attainable goals and the reconciliation of opposites." In other words, Butler believed the intellectual life should not remain in the realm of abstraction, but inform our lived reality.
Applied to South Africa's social and political landscape at the time, this meant embodying principles of democracy. Butler was outspokenly anti-apartheid and opposed Marxism. "Butler was frankly scared of ideas," explained Prof Wright, "not because he didn't like them but because he was seduced by them."
The incarnation of ideas was therefore crucial to Butler, who hoped to see democratic ideals lived out in Africa.
Prof Wright told the story of Butler's Freedom Stones, which still exist outside the 1820 Settler's Monument. When the Grahamstown bypass was constructed to allow cars to divert the township - thus eluding confrontation with the unjust conditions of its majority population, and their ensuing wrath - Butler had big stones from the dig placed near it to symbolise the four principles of freedom, outlined in President Roosevelt's famous speech "Four Freedoms": freedom of speech, worship, want and from fear.
The stones served as grave reminders that white South Africa could not simply bypass such fundamental principles.
Butler was aware that apartheid was a rationalist Western solution and believed that Marxism was not the antidote; however, he also knew the country needed some kind of vision propelling it forward. Butler found St. Augustine's writings to be a useful guide and a potential model for South Africa's new way.
"There had to be an alternative overarching idea that would energise the process of social synthesis," he said. Butler believed that all South Africans - white and those not white - must be prepared to reassess their own cultural and religious practices and that it was necessary to construct inclusive meeting points where their ideas could be bartered and exchanged.
"Guy Butler's solution was to build durable arenas away from politics," said Prof Wright. One of these forums includes the English Academy, founded 50 years ago, with its dual aim of promoting the English language and challenging undemocratic practices.
Thus, in belief as in action, Prof Wright concluded that, in his lifetime, Butler was successfully "Actualising a very cogent version of contemporary South Africanism."
Photo and story by Hailey Gaunt
Source:
Please help us to raise funds so that we can give all our students a chance to access online teaching and learning. Covid-19 has disrupted our students' education. Don't let the digital divide put their future at risk. Visit www.ru.ac.za/rucoronavirusgateway to donate