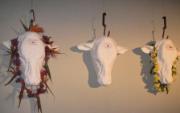 The recent annual Fine Art Department Graduate Exhibitions, hosted at numerous venues around Grahamstown, boasted a wide variety of work from Rhodes University's fourth year Fine Art students.
Of the 19 graduate exhibitions themes relating to socio-historical, political, environmental and personal concerns were investigated in a diversity of mediums. A dominant theme at this year's exhibition was the construction of the natural world, which was evidenced in golden elephants, unholy cows, red ants, webbed horses, grazing cupboards, preserved chimps and evacuation plans for Africa which were displayed on canvases and prints, walls, floors, ceilings and pillars.
Warren Canning's Google Earth oils of urban fringe spaces show where the city disintegrates into the hostile landscape, while Russell Bruns' New Dorp City depicts the city as alien, threatening and inhospitable, where ghostly humans flit through city streets. Continuing the theme of explorations of the city Lauren Edwards and Leora Jones's work evoke the inner space of the city as a place of threat, to illuminate and to protect oneself from.
Exploring the private/public intimacies of the bedroom, Zanne Reyneke's linen works echo the drive, desire and voyeurism of Samantha Munroe's digital works.
Explorations of the natural world also featured prominently in the exhibition, with Jennifer Coppinger's animal hybrids and Nastassja Hill's bottled creatures reflecting on the tenuousness of the natural world under scrutiny, observation and exploitation.
Alicia Nicola considers meaning making, existentialism and the everyday and Kate Brook-Hart's Machinations presents a take on the political satire in the daily running of a new democracy.
Identity, the 'interior', and the subconscious strata of dreams, mental disorders, child's play and the uncanny are considered in the works of Jessica Bosworth Smith, Denys Dixie, Calypso Ray, Minke Wasserman and Ryan Haynes, while Suvania Naidoo's ZA/in reflects the complex layers of identity embodied by a South African Indian female, influenced by western post-colonial society. Sven Christian's Facebook paint projections continue this theme of self examination as he considers the self as constructed through web media.
Story and photo by Sarah-Jane Bradfield
Source:
Please help us to raise funds so that we can give all our students a chance to access online teaching and learning. Covid-19 has disrupted our students' education. Don't let the digital divide put their future at risk. Visit www.ru.ac.za/rucoronavirusgateway to donate