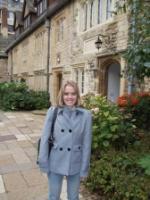 Former Rhodes student Amy Kenyon recently arrived at Oxford to begin work on her PhD after she was awarded a prestigious Wellcome Trust PhD scholarship.
The four year fully funded award is the Wellcome Trust's flagship scheme aimed at supporting the most promising students from around the world to undertake in-depth PhD research and training at the top universities in the United Kingdom. Kenyon was awarded one of the five available places on this programme at Oxford University.
She completed her Masters degree in Biochemistry in the Biomedical Biotechnology Research Unit (BioBRU) at Rhodes. She is currently working on her PhD in Infection, Immunology and translational medicine, which involves research in biomedical science of infectious diseases caused by bacteria, viruses and parasites as well as the development of drugs and vaccines.
"I have a passion for disease research particularly because of the difference you can make in so many people's lives. That being said, I don't believe that one person is going to cure AIDS or cancer but rather that breakthroughs in disease come from the collective effort of many researchers. In my own capacity I hope to contribute to the knowledge base of medicinal research and in doing so make my own small difference," she said.
Kenyon was encouraged to apply for the scholarship programme after her Honours and Masters supervisor, Dr Adrienne Edkins, suggested she apply. Before assuming her position as a lecturer at Rhodes, Dr Edkins was a recipient of a similar Wellcome Trust PhD Fellowship at the University of Glasgow, and "under her guidance I made the decision to apply for the scholarship".
Receiving the news that she had been shortlisted for the scholarship in January, she travelled to the UK for an interview which entailed giving a presentation on cancer research she had carried out at Rhodes, followed by a panel interview. Two days later she received an email offering her a place on the programme.
"It was one of those emails you reread numerous times to make sure you didn't possibly misunderstand. Beyond being given the opportunity to learn on an incredible PhD programme, being a student at Oxford University is a dream," she said.
From her four years at Oxford Kenyon hopes to gain international experience. "The scope of research at just this one university is so broad; there is opportunity to learn everywhere. Oxford University is home to some of the great minds in biomedical science," she said.
Highlighting the stead her Rhodes education has stood her in, she believes South African students are just as capable as students from well-known international institutions. "I believe that if South African students have the desire and passion to study at the great institutions all over the world, the biggest limitation is doubt in the education we have received in South Africa. On my course I have a student from Austria, Poland, England and Ireland and I have had no lesser of an education studying at Rhodes University," she added.
On completing her PhD with the knowledge, experience and collaborations gained, Kenyon said she would like to return to South Africa and carry out a career in research.
By Sarah-Jane Bradfield
Photo supplied
Source:
Please help us to raise funds so that we can give all our students a chance to access online teaching and learning. Covid-19 has disrupted our students' education. Don't let the digital divide put their future at risk. Visit www.ru.ac.za/rucoronavirusgateway to donate