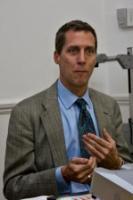 Dr Geoffrey Pigman recently presented a lecture titled: "'It's our game'? The hectic convergence of diplomacy and international sport," that was hosted by the Department of Political and International Studies at Rhodes University.
Outlining why international sport and its associated practices and codes involve various forms of diplomacy, Dr Pigman explained how as a definition, diplomacy functions as the mediation of estrangement.
"The mediation doesn't have to only be between governments. Mediations can involve a number of types of actors," he said. Through its core functions of representation and communication, diplomacy involves managing and facilitating various types of relationships between various actors.
"Sport is a form of mediation of difference between actors. Sport brings populations together; people share the love of the game. In this way it is a form of cultural diplomacy and people to people diplomacy," he said, not minimising the role sport may play as a form of latent conflict between individuals who support opposing sides or spots people.
Dr Pigman pointed out that in order for sport to occur in its myriad forms, diplomacy is needed. He highlighted the central ideas of the "sportification of diplomacy and the diplomatisation of sport," elaborating on the latter throughout his talk. "You need rules and organisers to implement norms of fairness and officials to referee. Organisers serve as mediators between competitors," he added.
There are various multi-level and multi-actor forms of sports diplomacy, including regional sporting bodies, governments and global firm sponsors among others. The various models of international sporting competitions include team sports, with national sides and sponsor organised sides; individual sports, comprising national sides and international competitions; and the Olympic model.
"There is also the politics of the diplomatic accreditation and recognition of who gets to decide on who competes with whom, against whom and in which events," said Dr Pigman. "So there are various ways diplomacy is involved in sport, including how governments want to get in on the game and take advantage of the opportunities."
Dr Pigman is a Visiting Fellow at the Department of Political Science at the University of Pretoria. He is a Member of the Faculty in Political Economy at Bennington College in Vermont, America where he teaches courses in political economy, diplomacy and international business.
He holds a D. Phil. from the University of Oxford. His principal areas of research are contemporary diplomacy, the politics of international trade, and foreign economic policy making. Recent publications include "The World Economic Forum: A multi-stakeholder approach to global governance" (2006) and "Contemporary Diplomacy" (Polity Press, 2010).
By Sarah-Jane Bradfield
Photo by Adrian Frost.
Source:
Please help us to raise funds so that we can give all our students a chance to access online teaching and learning. Covid-19 has disrupted our students' education. Don't let the digital divide put their future at risk. Visit www.ru.ac.za/rucoronavirusgateway to donate