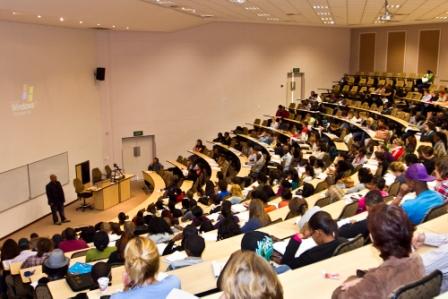 Mazibuko Jara, a presenter at this year's annual Teach-In hosted by the Department of Political and International Studies at Rhodes, reminded the audience that Social Justice is a concept whereby in society every individual has equal rights, equal access to social services, everyone understands the value of human rights and they are all equal before the law.
Jara, a senior researcher at the Law Research Gender Research Unit, presented a talk around Equality and Social Justice for the LGBTI community in South Africa.
He said that great strides had been made when sexual orientation was included in the equality clause of the Constitution. The Constitution ensured that all individuals including gays/lesbians have equal workplace rights, equal adoption rights and that the definition of rape was not gender-specific.
Jara said that we mustn't take it for granted and celebrate that we have this Constitution and that we have these rights. There is still a lot to be done for everyone to enjoy these rights because the LGBTI community continues to face dilemmas even though the Constitution is favorable. For example, Civil Union in South Africa is legally recognised; however, there are no formal rights and responsibilities for individuals who choose to be in a domestic partnership rather than a civil union.
If these rights and responsibilities are not clear, how will the socio-economic rights of such individuals be recognised and provided for? We have to think about how the political struggles of the LGBTI community relate to their socio-economic struggles, do they have the same access to services as the rest of the country. "It cannot be a standalone struggle," said Jara.
Teach-In discussant Eusebius McKaiser commended Jara for being a heterosexual man who is passionate about gay and lesbian rights. "He shouldn't get a pat on the back for caring about justice, unfortunately because we live in this society he does," said McKaiser.
He said that the reason why such men as Jara were to be commended is because in South Africa there is no political leadership fighting for the rights of the LGBTI community. "Political limitations exist because the ANC for the past few years has been undoing the work done in ensuring the rights enshrined in our Constitution," said McKaiser.
Jara has worked for more than eight years in the non-governmental sector in South Africa in the areas of human rights advocacy, HIV/AIDS, media liaison, communications, public and community education, community development, local government transformation, local economic development, promotion of co-operatives, alternative economic transformation, financial sector transformation, social and economic justice, and land and agrarian reform.
Story by Nompumezo Makinana
Picture by Judith Doubell
Source:
Please help us to raise funds so that we can give all our students a chance to access online teaching and learning. Covid-19 has disrupted our students' education. Don't let the digital divide put their future at risk. Visit www.ru.ac.za/rucoronavirusgateway to donate