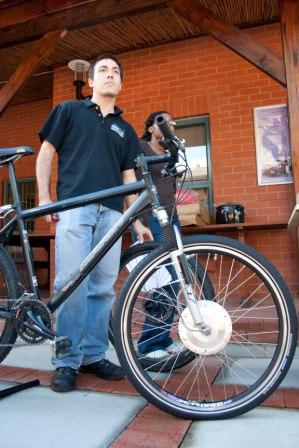 The United Nations Environment Programme (UNEP) has awarded a Mandela Rhodes Scholar, Alex Lenferna the prestigious Young Environmental Envoy Award, for his efforts in the area of sustainable development and climate change.
Lenferna, who is also chairperson of South East African Climate Consortium Student Forum (SEACC SF), will receive an amount of R10 000 for his projects and undertake a trip to a conference in Germany as part of the award.
Lenferna was one of two South Africans and 36 international youths selected through a rigorous application process. After passing the initial round, he was invited to Johannesburg to compete against four other youths representing environmental projects. While there, he gave a presentation on SEACC SF's projects and underwent a series of interviews.
"It was hectic", said Lenferna, describing how he was grilled by a panel of scientists, CEO's, high-end UNEP officials, engineers and reporters. "I think the passion for the project and the close relation I have to them allowed me to be confident and honest in my answers, which allowed me to overcome the intimidating setting," he added.
Lenferna knows what it means to be stretched. He spends more than half his work day devoted to SEACC SF, coordinating projects, planning campus events, networking with other universities and corporations. "Too much time my supervisor would say," he joked, "but I'm quite passionate about it, and it's tying into the work I want to be doing in the future. It doesn't feel like work."
Though his extracurricular activities align closely with his Masters work, which looks at environmental ethics and law, the projects Lenferna promotes through SEACC SF aim to have an immediate as well as an extended sphere of influence.
Wild Reach is a SEACC SF project which partners with Wild Lands Trust to take previously disadvantaged kids into the field to teach them about ecosystems. "We're hoping to help foster an ethical perspective and a better understanding of environments," he said.
Green Recycling is a campus-based initiative which aims to ensure the proper management of recycling in residences, promotes water awareness and is currently advocating for double-sided printing to be standardised on campus. Lenferna also speaks of a micro-enterprise, involving building and selling electric bicycles to people who would otherwise drive a car.
Some of SEACC SF's projects are ambitious, Lenferna admits, but thinking outside the box and looking for ways to integrate sustainable solutions into communities is what they're all about and indeed the reason for their success on the international stage.
SEACC SF hopes to have an "energy challenge" between residences on campus, where consumption is monitored and a competition is run to see which one as the most reduced usage. The percentage savings will go towards the Rhodes Green Fund and to climate change adaptation projects.
Seeing people truly empowered through SEACC SF's projects has perhaps been the most exciting revelation for Lenferna. "A lot of students want to make a difference and don't know how, it's been rewarding to provide the space for students to be able to contribute," he said.
By Hailey Gaunt
Picture: Alex Lenferna, with an electric bike.
Picture by Hailey Gaunt.
Source:
Please help us to raise funds so that we can give all our students a chance to access online teaching and learning. Covid-19 has disrupted our students' education. Don't let the digital divide put their future at risk. Visit www.ru.ac.za/rucoronavirusgateway to donate